---
REVIEW DownBeat / December 31, 1961
---
Review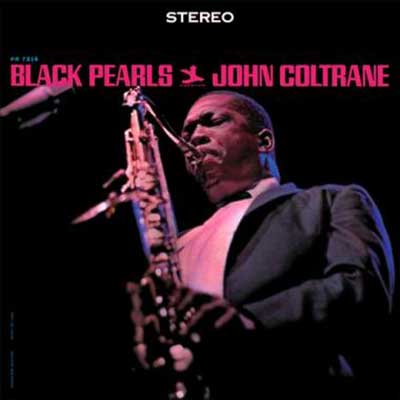 John Coltrane
Black Pearls
Prestige 7316
★★★★
Rudy Van Gelder Remasters


This album was cut—but not released—about seven years ago when Coltrane, Garland and Chambers were marching together under the banner of Miles Davis.
What critics might have said then is conjectural; probably most would have praised the sidemen heartily and wondered aloud about Coltrane, because he was then in the first stages of those explorations that since have made him the joy or despair of various jazz listeners.
Coltrane is, in effect, experimenting or practicing here. Despite a commanding technique, he is still not in control—as are the others—of his material because of the nature of that material. His technique would more than suffice the needs of most jazzmen, but it is not yet sufficient to express the advanced ideas that he wishes it to. In this sense, Byrd, Garland & Co. "play better" than Coltrane because they are surer-footed in covering the old ground than he is in digging up the new. Were he to play on their turf, he would probably cut them all, although Byrd and Garland turn in some extremely fine work.
In view of Coltrane's phenomenal staying power, it is not surprising that the album contains but three tunes, one of them (Sapphire) taking up an entire side.
Coltrane's involvement with his music and instrument is total. So intent is he one finding out what more lies within his horn that he will go on for choruses unstopped. Many times he has not that much to offer, and the minutes drone on. At others, however, he is the Lord during the first six days.
One night a few years ago Coltrane sat in at the old Five Spot in New York City and improvised about 25 minutes on Woody'n You. It was an awesome performance. Near the end many wondered why his chops didn't fall off or at least deteriorate into blubber. But he played on and finished the last measures with as much strength as the first. Then he stepped down, went into the back room, and began to practice!
None of the Coltrane performances here matches that solo in length or inspiration; yet some passages are compelling despite the inescapable impression of someone practicing his scales. His work on the boppish Pearls is rather wearying in this regard.
He is less trapped on Lover, taken at express-train speed, though his bridge on the closing statement seems mere meandering. On Sapphire, however, he fashions some gripping emotional and melodic fragments amid the morass of notes.
The work of Byrd and Garland on Sapphire is powerful, thoughtful, cohesive, Byrd gets hung up briefly on a couple of Coltrane-like runs, and his execution falters a bit, though it is not as sloppy as on Pearls, on which he sounds tired. Yet the strength of his ideas and his lyric inventiveness is everywhere evident.
Garland's extended Sapphire solo is one long, logically built delight. Throughout his seven-minute stewardship, the pianist sustains a level of creativity that is rather remarkable. From chorus to chorus he pours in new ideas and variations with unflagging inspiration.
The Chambers-Taylor rhythm duo performs with consistent excellence. Taylor's solo on Sapphire is a splendidly constructed piece of work. Altogether, he and his fellow sidemen come off better than Coltrane, but Coltrane's intensity and technical adventurousness still captivate the listener.
Incidentally, Prestige has issued this as a stereo album. I am informed it was not originally recorded thus. —Don Nelson
---
Black Pearls:
Black Pearls; Lover; Come Back to Me; Sweet Sapphire Blues.
Personnel:
Donald Byrd, trumpet; Coltrane, tenor saxophone; Red Garland, piano; Paul Chambers, bass; Art Taylor, drums.