---
REVIEW DownBeat / May 11, 1961
---
Review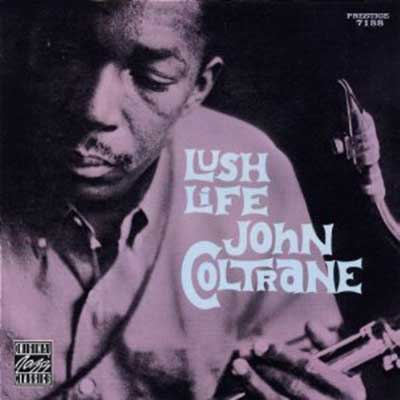 John Coltrane
Lush Life
Prestige 7188
★★★★★
Rudy Van Gelder Remasters


In a Blindfold Test some months ago, Jon Hendricks said he would have to give anything by John Coltrane five stars. Thus far, on the basis of Coltrane's own LPs, there has been nothing to cause me to dissent from Hendricks' opinion. Moreover, as long as we are practicing limbsmanship, I may as well go all the way out and say that I consider Coltrane the outstanding new artist to gain prominence during the last half decade.
Coltrane's playing, particularly at the faster tempos, has always left me with the impression of a man so driven to communicate that he must perforce begin the next note before the last has been completed. Perhaps the most amazing aspect of his artistry is that he has been able to harness the immense energy to create an ordered music of breathtaking beauty.
Ordered because a Coltrane solo involves the logical development of one of more motifs, almost as if Coltrane were setting himself a problem in music to solve. Like the James Joyce of Ulysses and Finnegan's Wake, he will take an idea and worry it from every side, returning to it again and again (sometimes in another piece) until convincing himself that, for the moment at least, it has been wrung dry.
This is an approach which, in the hand of a less supremely gifted musician, could easily lead to lapses in taste. Indeed, many early criticisms of Coltrane were couched in terms of implying various excesses: "too many notes," "just running scales," "all those unnecessary changes," and so on. That one now encounters such pejoratives only infrequently, I take as indicating that Coltrane's powers of selectivity have been recognized as being great—as was apparent all along from his ballad performances—different in kind, but not degree, from this of, say, Thelonious Monk or Miles Davis. The selections here are remnants left in the Prestige vaults after Coltrane moved to Atlantic, dating from about the same period as the two sides cut with the Red Garland Trio (Traneing In, Soultrane) and memorable Blue Trane session on Blue Note. Taken together, these four albums compose one of the unmistakable pinnacles of modern jazz on record.
The three tracks of the first side were recorded by a tenor-bass-drums trio. (This wasn't planned as a Sonny Rollins-type experiment—the piano player just didn't show.) One might expect that the lack of a piano would have hampered Coltrane, especially since his solos at the time were based rather heavily on the use of chord changes. But Coltrane clearly didn't need the piano to show him the changes, and, thanks in large part to the splendid foundation set down by May (a much underrated bassist), the piano's absence goes quite unnoticed.
All aspects of Coltrane's conception during this period are well-illustrated on the album: the classic simplicity and haunting loveliness of the Coltrane ballad technique, as previously demonstrated on While My Lady Sleeps, Slow Dance, et al, is here further exemplified by Somone In Love; Trane's Slow Blues is another superlative effort in the blues genre, to be ranked with Bass Blues and Blue Train, with which it shares a number of common motifs (Coltrane's ability to utilize the blues as a never-failing spring of inspiration has always been impressive).
Recorded with the same front line, that of the two Garland quintet dates for Prestige, Lush Life is accorded a treatment in keeping with its title. Do you suppose that whoever coined the "hard bop" label ever heard Coltrane play on a record such as this? The mood is strictly comprised of romantic lyricism. Garland also contributes a lovely solo on this track.
The standard I Hear A Rhapsody, played by Coltrane and an orthodox rhythm section at a fairly rapid pace, provided the album with an exhilarating climax.
That Coltrane has altered his style somewhat since recording these selections does not alter their value in the least. For sheer beauty of approach and execution, his work has rarely been equaled. (F.K.)
---
Lush Life:
Lie Someone In Love; I Love You; Trane's Slow Blues; Lush Life; I Hear A Rhapsody.
Personnel:
Coltrane, tenor saxophone; Tracks 1-3: Earl May, bass; Arthur Taylor, drums. Tracks 4,5: Donald Byrd, trumpet; Red Garland, piano; Paul Chambers, bass; Louis Hayes or Albert Heath, drums.