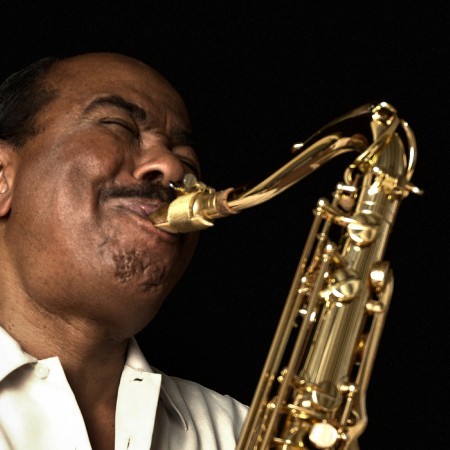 If you make it to 80 and still are at the top of your game, you're one lucky guy.
All you have to do is look around and think about all the guys who didn't make it. In the end, you begin to wonder whether maybe the biggest score of all is to be the last man standing. It might be lonely, but you have the satisfaction of looking back across the times of your generation with the certain knowledge of how everything turned out.
Tenor saxophonist Benny Golson has been thinking thoughts like these lately as he arrives at his 80th birthday on Jan. 25 (to be followed by his 50th wedding anniversary in March). He will celebrate his birthday with a CD by the New Jazztet (with Eddie Henderson in for Art Farmer), New Time, New 'Tet, out this month on Concord; and a concert at the Kennedy Center in Washington, D.C., on Jan. 24, featuring Ron Carter, Curtis Fuller, Cedar Walton, Al Jarreau, the Clayton–Hamilton Jazz Orchestra and others. He'll also think about the colleagues who are not there: Farmer, Clifford Brown, John Coltrane, Lee Morgan, Philly Joe Jones, Paul Chambers—the ones who didn't make it.
Golson continues to play concerts and clubs. Last September, he came to Chicago for a short week at Joe Segal's new Jazz Showcase in the South Loop. Opening night was slow, but Golson was competing with a persistent drizzle and John McCain's Republican presidential nomination acceptance speech. By the weekend, the rain and the oratory had passed, and the fans came out to enjoy one of the great survivors of an increasingly fabled era of jazz innovation.
Among many things, Golson will be remembered for his appearances in two pictures. First, as the McGuffin in Steven Spielberg's 2004 The Terminal; and second, as Player No. 2 in Art Kane's 1958 Harlem brownstone photograph—"A Great Day In Harlem"—that appeared in Esquire. The former depended upon the latter. Tom Hanks' character in The Terminal, Viktor Navorski, was on a quest to complete his father's autograph collection of the 57 musicians who appeared in the famous picture, the final piece of which was Golson's signature.
A few days after Golson's Chicago opening, we sat down for lunch in his hotel. Golson exudes a friendly but distinguished air. He speaks softly and uses language with careful precision. Words appear in his e-mails that can send even the most literate reader to a dictionary.
I opened a large brown envelope. Inside was the original January 1959 Esquire.
"Oh, my goodness," Golson said with some surprise in his eyes. "I lost mine."
He took the magazine and turned the pages cautiously, as if handling some fragile historic artifact. And there it was on pages 98 and 99. He reflected in a way that comes naturally to a man looking at a 50-year-old photo of himself, standing as a young man among a community of his peers and heroes.
"None of us had any idea what would happen with that shot," he said. "There are only six of us left. I'm at the top right here."
He then pointed out the other five out of 57 in the photo still alive: Hank Jones (90), Horace Silver (80), Sonny Rollins (78), Eddie Locke (78) and Marian McPartland (90). They've each seen and heard so much the others have missed by reason of mortality. When you see yourself as a young man in such a picture, I suggested, one can't help thinking that the little game we all played in kindergarten—musical chairs—is a metaphor for life itself.
"I never thought of it that way," he said.
Clearly, the jazz life has been good to Golson. "Let me put it this way," he reflected. "I've been fortunate. It could have been the other way. But I had such a desire to get into this music, not to become famous, not even to make money, but to have my things played and please the people who would hear it. And it's happened in great abundance, more than I had anticipated. It's been good to me."
He looked back at the photograph. "I had just come to town, one of the young lions of 1956," he said. "Nat Hentoff called me for that picture. I don't know how he had heard of me. I was playing with Dizzy when that was taken, so I knew Diz. Also, Art Farmer, Horace Silver, Johnny Griffin and Emmett Berry. But I had never met any of the others. Look at that. Coleman Hawkins, Lester Young, Gene Krupa, Charlie Mingus, Basie. I had to keep myself from asking for autographs. We didn't do that in those days. I was a nobody and just glad to be there."