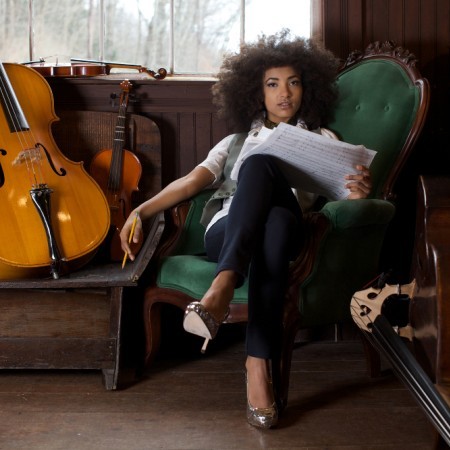 The next morning, Spalding is speechless—almost. "Anything I could say would not do justice," she says when asked what it's like to play with Tyner. But hardly ever at a loss for words, Spalding says that it wasn't a case of intimidation the first time she played with him, but more self-consciousness and even a sense of insecurity. She recalls that the summer before the Yoshi's gig was dreamed up, she and her longtime pianist Leo Genovese had gotten into a total Tyner-zone over the course of two month-long gigs.
"So, McCoy was already in the air," she says. "We listened to hours and hours of his music—solo recordings, live albums, quartets. We'd be driving for six hours through Italy and taking about McCoy the whole way. So, when the Yoshi's week came up, I knew all of his music, so I didn't have to prep as much. But, as a bass player, I knew it was going to be difficult because McCoy plays the bass and the drums at the same time on the piano. At first, that was a challenge for me, figuring how I could offer him the most with my bass, but by the end of the week at Yoshi's, I felt less idiotic. We were all totally engaged."
Spalding has had a love affair with music since she was very young. She was home-schooled for a stretch after a childhood illness and dropped out of the conventional setting of high school to pursue music. She took her GED, enrolled in the music program at Portland State University and entered Berklee on a scholarship thanks to her bass prowess. She graduated a year early in 2005 at the age of 20, and with much fanfare was immediately hired to teach in the bass department there. (She's since terminated her pact with Berklee, partly because she's gotten so busy, partly because she had qualms with the classes the school administration wanted her to teach.)
By that time, she had established herself as a side player with such notables as Lee Konitz and Patti Austin, as well as a bandleader in her own right, which led to her recording a demo in April 2005 that was picked up by Ayva. A year later Junjo was issued in the States, at which time Spalding said, "My music has come so far from when we recorded it. It's all been a trip. It seems like every six months my music evolves. As I meet different musicians in new circles, they influence me and change my sound."
A nine-song collection of buoyant originals and sprightly covers, Junjo featured Cuban pianist Aruán Ortiz and Mela. In the liner notes, Spalding wrote: "You are my people, and I hope to make a dozen more CDs with you as we grow together musically and personally." As it turned out, that dream proved to be wishful thinking. By the time it finally saw the light of day in the States, she laughed at the liners and said, "Already we've all become too busy. I'm glad we had the chance to take a picture, and I hope to take more. But they're off and I'm on to other stuff, too."
In 2007, Umbria creative director Carlo Pagnotta caught her at the Jazz Standard in New York playing in a trio comprising guitarists Romero Lubamba and Russell Malone. "I wanted to have her come to Umbria with them," Pagnotta said, "but she insisted on bringing her own band."
At the festival, Spalding proved to be a revelation to the audiences at the Oratorio Santa Cecilia, where she performed three days with her trio of Genovese on piano and Lynden Rochelle on drums. She was a sparkplug who danced with her bass as she scatted and sang through a mixed set of standards (a grooving "Autumn Leaves" and a funky, upbeat take on "Body And Soul") and originals such as "Winter Sun," a samba-tinged tune with a funk-rock beat that she retitled "Summer Sun" for the occasion.
As for the expansive range of her music, she said, "Everyone wonders, why did you go to jazz when you're interested in so much else? For us young jazz musicians, it's how we learn music. It's like reading a sacred text in Greek. So, we study and learn more and more, but our hearts are into a mishmash of different sounds."
At her Umbria performance, Spalding was as likely to explode into a patch of vocalese as to solo using her bass to sound like a horn. "I can't help it," she said afterwards. "I always try to tone down my dancing with the bass. I think, I must look like an idiot, but then I bust out and can't control it."
In regard to her Heads Up debut, Spalding upped the ante on her vocals and plowed deep grooves with her bass. It scored top of class, as far as selling the most CDs internationally for a new jazz artist in 2008.
After the popularity of Esperanza, Chamber Music Society is decidedly an album that's coming in from left field. Inspired by the Chamber Music Society of Oregon (in which she played violin for 10 years), Spalding decided to create a modern image of a chamber group with string trio arrangements complementing her own originals that are infused with pop, folk and jazz. Genovese is on board, as well as drummer Terri Lyne Carrington.
Spalding credits her Barcelona-based management, Montuno Productions, with giving her free license to pursue her latest musical vision. "They were the first people to approach me when I was just starting," she says. "They loved my music, and I've loved working with them. Sometimes I forget how blessed I am when I think of young artists whose managers are not really on their team. I told Montuno that I was making a decision that might not seem to make much business sense, but they'd just have to respect me."
Spalding didn't have a fully developed game plan for Chamber Music Society. It evolved slowly and came into focus with the help of Goldstein. "I wanted to work with Gil because of his enthusiasm," she says. "This genius master was so into my music that he was willing to go into it and make it better."
Spalding, says Goldstein with admiration, is "always reaching for something new every time she performs. She puts a face on every note. She's become more refined as a player. She's going deeper."
Goldstein explains how he got involved in Spalding's project: "It's not luck or an accident. It's more like I attract things that are suited to me. I have a distrust of things that are won through politics or positioning, and feel more blessed and in sync when things unfold in an organic way."
Spalding showed Goldstein three Chamber Music Society pieces she had arranged. Goldstein attended a Spalding show with pianist Adam Goldberg, vocalist Gretchen Parlato and three string players. "It was an early presentation of her chamber music project," he says. "But I didn't know what I could bring to it to make it better. I wasn't sold on the three strings and suggested that we bring in a couple of woodwinds. Espe immediately said no woodwinds. I said we may need some more colors in the music, so we decided to bring in extra singing voices. As it turned out, Espe sang in such a pure way that she sounds like a woodwind."
While she's received a lot of attention for her bass playing (she won this year's DownBeat Critics Poll for Rising Star, Acoustic Bass), Spalding also has improved immensely as a singer, showcased on wordless and lyrical parts throughout Chamber Music Society. Early on, she was best known as a terrific bassist in motion to greater heights, but then she began to slip in vocal numbers among the instrumentals.
She's been intent on that ever since, especially on Chamber Music Society.
Spalding downplays the notion that she's doing anything new or special as a bassist who also sings. "I never thought about singing," she says. "I didn't really care, because it came easy to me. But in the last couple of years, I decided to cultivate that. But I didn't know what I didn't know. I was singing by ear and not worrying about how it sounded."
Spalding's first self-taught vocal exercise was singing Michael Brecker's saxophone solo on "The Sorcerer" from his Directions In Music. She recorded herself and became dismayed when she played it back. "What I thought was happening was not really happening," she says. "What I was hearing in my head—the timbres, the different sounds, the textures—was not happening. I had to learn how to get that, how to articulate and come to the understanding of the mechanism of the instrument like I have with the bass." She began to listen to and study singers like Betty Carter, Abbey Lincoln and Nnenna Freelon to find out what was lacking in her own vocals.
Goldstein has seen the progress and goes so far as to say that Spalding is one of the best jazz singers on the scene today. "She's a real jazz vocalist like Abbey or Betty," he says, then adds, "not like an Ella or Sarah who were more populous. Espe is so versatile, running the gamut from great r&b to Stevie Wonder pop, and sings with the most personality. You hear half a note and you know it's her."
He's also amazed at how she plays bass and sings. "I can't think of another jazz singer who can sing the melody and comp with the bass notes for herself the way she does," Goldstein says. "It's singing the melody and anchoring the rhythm. The world could collapse around her, or she could be playing with the worst drummer, and she would still protect the rhythm like a soccer goalie."
Parlato, a good friend who has appeared on Spalding's last two albums (including their show-stopping duet on Antonio Carlos Jobim's "Inutile Paisagem" on Chamber Music Society), says that Spalding's singing has become "profound and versatile." It helps, she says, that Spalding studied instrumental music first. "She's singing at such an advanced level. She's developed a very unique sound with her tone and texture that immediately hits you. It gives me goose bumps. She's very precise, perfectly in tune and takes big risks. Her dynamics are so wide. She's doing everything the right way. She's causing a scene by just being herself as a total person."
When reminded of her telling me three years ago that wonderful things happen as a byproduct of the natural evolution of a musician who's in motion, Spalding says, "Yes, it's all about the process. That's getting reaffirmed over and over. The things I forget the quickest are the events. But what I don't forget is being some place and grabbing a chunk of insight from another musician. It kicks my butt into a new direction."
As for the future, Spalding, who splits time between Austin, Texas, and New York's Greenwich Village, is already conceptually working on her next album, Radio Music Society, which she initially described as a funk, hip-hop, rock excursion. That's all changed now, as she's been on the road experimenting with the tunes she's written so far. "It's about putting elements of our own music onto the radio," she explains. "It's about playing songs that should be on the radio but haven't been meddled with for the sake of getting on the radio. We've been doing some of these songs live and people are freaking out. They love them." Knowing Spalding, their shapes are bound to change even more when she and her band hit the studio in November.
The final question of our interview gives Spalding pause. She's a fluid talker, who moves from topic to topic with gleeful ease. But when asked to describe herself in six words, she stops in her tracks. The wheels are turning, but after long thought, she settles on her phrase. It's not perfect, she says, but it'll do: "Striving to achieve full human potential."
It's an excellent summation of what lies ahead—steady and grooving and determined as she goes. DB