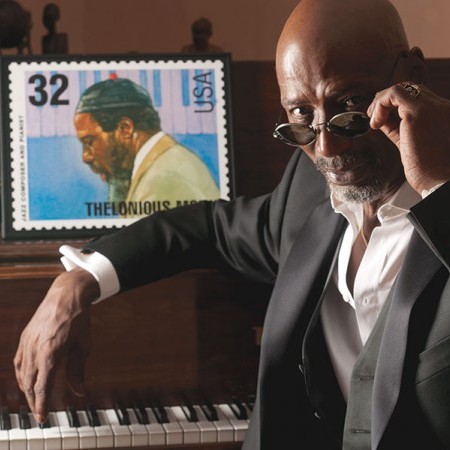 What's it like to grow up the child of a famous father, the son of jazz royalty? What's it like to share the name Thelonious Sphere Monk?
With the 25th anniversary of the Thelonious Monk Institute of Jazz approaching, DownBeat invited T.S. Monk Jr., a fine drummer in his own right, namesake of the Hall of Fame pianist and chairman of the board of trustees of the Monk Institute, to fly out to Chicago for a live interview. In front of more than 250 music students and educators at the Midwest Band Clinic last December, Monk Jr. revealed, "Thelonious is such a mystery to some, a mystery to so many people. But many of you may not know, he was a real family man."
It's a side of the playful genius of jazz that adds to his legacy. Nearly 30 years since his death, Monk's influence grows almost exponentially. His music has been rediscovered, and reinterpreted, by generation after generation of jazz artists with dozens of Monk tributes coming out in the last two years alone (see a few below). The Monk Institute has blossomed behind the famous name, helping discover as many top-level artists as any record company in the business—including Marcus Roberts, Joshua Redman, Jane Monheit and many others.
With Washington, D.C., as its home base, the Monk Institute has also become a de facto international lobbying firm for jazz, successfully reaching out to both sides of the political aisle, and a go-to resource for the White House. Among its board and supporters is an A-list of stars like the institute's chairman, Herbie Hancock, as well as Bill Cosby, Billy Dee Williams, Wayne Shorter, Clint Eastwood, Aretha Franklin, Stevie Wonder and Kareem Abdul-Jabbar, to name a few.
All of this has been born from a most unlikely source, one of the most iconoclastic, quirky figures in jazz history—the man T.S. calls "Daddy." The younger Monk's family memories offer a rare glimpse into Monk's legacy and genius. This interview is presented solely in T.S.'s words. They are detailed, loving and insightful.
I AM MYSTIFIED at how Thelonious was able to mentor Miles [Davis] and mentor John Coltrane and mentor Bud Powell and a whole host of other lesser-known musicians, and run the jam sessions at Minton's Playhouse for eight hours, and run all over the world … and I think of him as Daddy absolutely first. He was always there to be Daddy. He was always home. He liked home. He liked the neighborhood.
A NEWS REPORT came on the television, and it was about Elvis Presley's chauffeur, who wrote, sort of, the first inside, tell-all about the celebrity. My sister and I were laying at the foot of the bed. My mother and father were at the top of the bed, and we watched this whole thing about Elvis' chauffeur. And then Thelonious turns to Nellie and he said, "You'd never pull no dirty shit like that on me?" [laughs]
YOU HAD THESE GUYS coming through the door. For instance, I distinctly remember Sonny Rollins coming through the door. He had a Mohawk hairdo. Already, that was wild. But then he had his tenor saxophone in one hand, and he had like a 35-pound dumbbell in the other hand. And of course, this was because the old tenor saxophone cases were these big heavy boxes, and he felt like it was jammin' him up by carrying it, so he had to balance himself out by carrying that 35-pound weight. But I have to tell you, at 6 or 7 years old, this guy coming through the door with these weights in his hand and a Mohawk hairdo was … very strange.
AND THEN YOU'VE GOT MILES DAVIS coming through the door. It's funny because everybody thinks of Miles as this incredibly arrogant guy, telling everybody to kiss his butt all the time. I have to tell you, Miles used to come to the door, and he was a mouse.
He used to knock on the door, and I was the official door-answerer. I would go to the door and open the door, and he would say, "Could you tell Monk that Miles is here?" Miles would come in and sit down at the piano. Thelonious would be in the bedroom laying down with his hand over his head. Now, I knew he wasn't sleeping because I told him Miles is at the door, and Thelonious told me to let him in. But Thelonious might lay there for an hour, an hour-and-a-half. And Mr. Arrogance himself, Miles Davis, would sit at that piano like a student, like a child, and wait and wait until Monk would get up and come outside.
IN MY HOUSEHOLD, and in the back rooms of the clubs where I was privileged to hang out, and in the band rooms, whether it was JVC or the Newport Jazz Festival, the mantra in the air was "Play your own stuff." It actually wasn't "Play your own stuff"—everybody's grown here—it was "Play your own shit." I heard it come out of Sonny Rollins' mouth, Miles Davis' mouth, John Coltrane's mouth, Thelonious Monk's mouth, Art Blakey's mouth, Max Roach's mouth, Roy Haynes' mouth, Dexter Gordon's, too. It goes on and on. For everybody who came through the house, that was the mantra of the day.
THELONIOUS TOOK ME EVERYWHERE. I'm a photography buff to this day. How did I become a photography buff? I went to the airport one day. Thelonious and Dizzy got off a plane. This was in the day when if you said something was made in Japan, people said, "Oh, my God." It was the way people think of Chinese goods today.