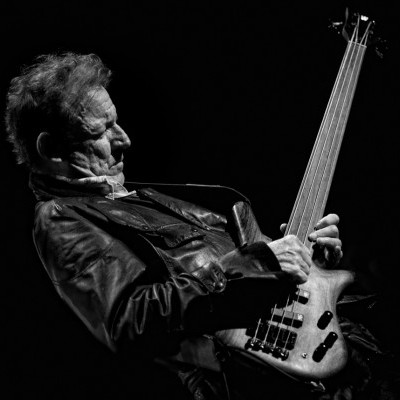 Jack Bruce was all smiles backstage. "All right!" he exclaimed, trilling the letter "R" as native Scots always do. The Cream bass player had just learned that the Bergen Performing Arts Center, tonight's concert site, was in a downtown section of Englewood, New Jersey, named after a former resident who's one of his favorite beboppers. Minutes earlier, he was outside the theater with a group of autograph seekers and failed to notice the diamond-shaped street pole sign—Dizzy Gillespie's Place.
Gillespie's home turf proved appropriate to the occasion. Sixty-five-year-old Bruce, one of the most accomplished bass players in rock history, as well as one of its most distinctive singers and imaginative songwriters, was in town on a 1960s rock-nostalgia tour called Hippiefest. But he was also there to talk about his longtime, passionate involvement with jazz and blues, which indelibly touched Cream and the idiosyncratic solo career that has existed in the deep shadow cast by rock's first superstar band. This story's largely unknown, though long-faithful DownBeat readers might recall him placing in the annual polls and his genre-crossing work with Carla Bley, Tony Williams and Kip Hanrahan. Recent generations of music fans have little, if any, knowledge of Bruce's role in fathering and developing British blues, r&b and rock. He's certainly not just another aging rock star.
It's possible to play catch-up with some of Bruce's past music thanks to three new releases. The six-CD box set Can You Follow? (Enigma) surveys his recording career from the early 1960s to the present decade, with emphasis on his individualized progressive rock style. The triple-disc Spirit: Live At The BBC, 1971–1978 (Polydor) showcases two of his bands—one jazz-rock oriented, the other a rock outfit with Bley—and a free-wheeling jazz trio of Bruce, John Surman and drummer Jon Hiseman. The album hr-Bigband Featuring Jack Bruce (hr-musik) features Bruce with an explosive 19-piece band in a concert of Cream and solo-career tunes in Frankfurt in 2006.
The following has been edited for length and clarity.
Was jazz important to you as a young boy in Glasgow?
Yeah, jazz was part of my family. It was a musical family. My mother and father were ballroom dancers and my father was knowledgeable about jazz. He loved Fats Waller, and he played piano in an approximation of Fats. My mother was teaching me Scottish folk songs. There was always a lot of music in the house, mostly live.
Did you hear any touring American jazz musicians?
We went to see some concerts in the 1950s. I remember Jazz at the Philharmonic with Ray Brown, and going to see the MJQ with Percy Heath. I was attracted to the bass when I was about 14. The instrument was free at school, an old bass standing in the corner, nobody wanted to learn it. They brought in a teacher for me—an old man, a good teacher—and he said, "You're not big enough, yet. Your hands aren't big enough yet; you're not tall enough." So, I took up the cello.
You studied classical music?
That was the first thing I was taught at college. I was always attracted to the more modern aspects of the music: Stravinsky, Messiaen. In those days, they weren't recognized as having a strict mainstream quality, so being rebellious, I immediately went for everything like that.
I've always liked to improvise. There was a piano at home—they bought it for my brother, Charlie, a promising player in a George Shearing direction. But when there was nobody home, I tried things out.
You took up double bass and started playing in London jazz bands in the early 1960s.
I could make a living out of music. I never thought I'd be famous. I was undiscerning. If somebody asked me to play in a country and western band or a Scottish country dance group, I'd do it for the money and experience. It gave me a wider knowledge than the average rock star.