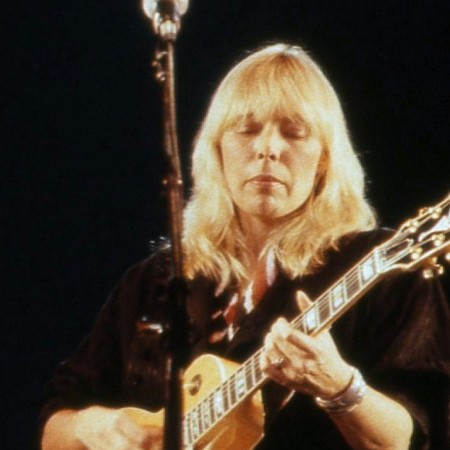 The career of vocalist and songwriter Joni Mitchell has, within the past year, developed to emphasize her associations with jazz music, which have been evident at least since Tom Scott's L.A. Express joined her on Court And Spark. Mingus, her acclaimed collaboration with the late bassist/composer, and her Playboy Jazz Festival performance with Herbie Hancock, Don Alias, Gene Perla and Randy Brecker are indicative of her latest direction. In conversation, Mitchell states her longtime involvement with jazz—the sound of Annie Ross is clearly discernible in some of Joni's phrasing, and sure enough, Lambert, Hendricks & Ross was an early favorite.
Born in McLeod, Alberta, Canada, Mitchell enrolled at an art school in Alberta, but soon drifted into folk singing. She took an increasing interest in songwriting, taking up ukulele and acoustic guitar, and after working at coffee houses in Toronto, moved to Detroit in 1966.
Her career moved into top gear after she signed with Reprise Records in 1967. During the years that followed, her own personal success as a singer was at times partially subjugated to the impact of others' versions of her songs; "Both Sides Now" provided a hit for Mitchell and a gold record for Judy Collins.
A natural musician—rather than a schooled one—over the years, her close association with sophisticated musicians has led to a more sensitive awareness of the fundamentals of jazz.
Last year, it became known that she was embarking on an album in collaboration with the ailing Charles Mingus, which was to include sidemen Wayne Shorter, Jaco Pastorius, Peter Erskine and Herbie Hancock.
By late April, the project had been finally mixed and the album was previewed at a private party. The interview below took place a few days later, when Mitchell still had not decided on a final title, which she discussed here.
The cover art consists of paintings by Mitchell of Mingus. It was to this that I made reference in my opening comment.
I like what you put outside the album almost as much as what you put in. It's a beautiful cover.
Thank you. I like the cover myself. I've always done much more commercial covers—by that, I mean to distinguish it from my very personal, private painting. It's the first time I decided to put that out because it seemed to suit the music. The music is very painterly, as well, I think, a lot of white canvas, and very brash, strokey interaction, especially on the things that were done with Wayne and Jaco, and Peter and Herbie.
Had you ever considered making that your career?
All my life I've painted. All through school it was my intention to go on to study art. It was a very academic culture that I came out of. Our parents had come up through the Depression, and insisted that we all have a very good education. I wasn't academically oriented and I was growing up just at the time before arts were included as a part of education. Four years later, there were fully developed art departments and music departments in the high schools that I attended. But at that time, I was kind of a freak.
Music education was very limited then, too.
Well, now, even though they've included that in the program, both the art and the music education are still limited. But they have access to a lot of fantastic equipment, and at least it is included in the curriculum.
At that point in my education, when they discovered on an aptitude test that I had musical abilities, they wanted me to join a glee club, which was pretty corny music; it wasn't too challenging. So I didn't join.
Well, you couldn't learn the kind of music you later became involved with.
No, it was all exposure to people who moved me, that's how it came. It came really from the street, going into a club and hearing somebody hanging out with somebody. Not so much playing with people like jazz musicians, but just observing.
What was the first exposure you had?
When I was in high school—like I say, I wasn't too swift academically, but I did a lot of extracurricular drawing. I did backdrops for school plays, drawings of mathematicians for my math teacher and biology charts of life for my biology teacher. That was a way of appeasing them for being so disinterested in the academic aspect. One year, I did a Christmas card for a fellow who was a school leader, and he gave me a present of some Miles Davis albums. And about that time, my only musical interest, actively, was in rock 'n' roll—Chuck Berry, and this was at the level of dance. I loved to dance. I think my time developed from that love. Going to two, three or as many dances as were available to go to a week.