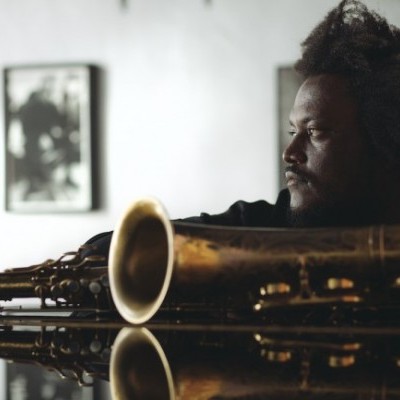 Considering Kamasi Washington's bold, dramatic ascendancy on the international jazz scene during the past year, it comes as no surprise that the saxophonist would scoop up three wins in this year's Critics Poll: top Jazz Album, for The Epic (Brainfeeder); Rising Star–Jazz Artist; and Rising Star–Tenor Saxophone. But, despite his strong new presence, galvanized by bookings on the jazz festival circuit, the club scene and most significantly at massive rock festivals such as Coachella, Bonnaroo and Pitchfork, Washington isn't an "overnight sensation," as many people might think.
Washington, a 35-year-old native of Los Angeles, emerged as a valued sideman for artists in r&b (Chaka Khan, Lauryn Hill) and hip-hop—including as an improvising voice on rapper Kendrick Lamar's Grammy-winning hip-hop masterpiece To Pimp A Butterfly (Aftermath). Washington's long jazz pedigree includes work with two L.A. legends: He was in Gerald Wilson's big band, and he explored the avant-garde world with Horace Tapscott and his Pan-Afrikan Peoples Arkestra.
So, why has Washington soared into the higher reaches of jazz now? It's all about The Epic. Washington's ambitious, critically lauded three-disc album, recorded with a group of tight allies from his West Coast Get Down coalition, was released in May 2015, but the music gestated for a long time, with the origins of some tracks going back more than 10 years. The album presents a jazz statement running in multiple directions, including proudly backward in time and style, with liberal nods to the worlds of heroes Pharoah Sanders and John Coltrane, and with choral and string parts that can suggest the work of Donald Byrd or Alice Coltrane (whose grand-nephew, the poetic hip-hop maestro known as Flying Lotus, signed Washington to his Brainfeeder label).
In an interview near his home in Los Angeles, Washington spoke about his newfound life in the spotlight. "There is certainly an 'other side of the fence' feeling," he said. "Doing shows and festivals under your own name, it's a surprisingly big difference compared to playing with someone else. There is a lot of responsibility. Playing with someone else, really you are responsible for your part of the music—and that's it. It gives me more respect for the [bandleaders] I've played for over the years."
One important aspect of Washington's story is the geocultural significance of this background. He is one of the greatest phenoms in jazz history to have come out of Los Angeles—while remaining very much rooted in that city. Charles Mingus, Eric Dolphy and even Ornette Coleman were at one time or another based in there, but those titans gained legendary status after they left the city.
Washington, along with many of the players in his extended musical family, grew up in the fertile environment of the Leimert Park neighborhood, aka South Central, turf generally associated with hip-hop.
Washington and his friends honed their chops at various local venues, including the revered World Stage club, owned by drummer Billy Higgins (1936–2001). It was at the World Stage that an impressionable young Washington first heard saxophonist Sanders. It changed his life.
"From there on," he recalled, "I always loved that sound that Pharoah put out. It was a hub. Right there, in South Central L.A., two blocks in either direction, you're right in the middle of the 'gang war.' But [at the World Stage], it's peaceful and with nothing but positive energies. People demonize these young people who are called 'gangsters' and are made out to be heartless monsters. They're really not. They're people who have a negative self-image, who don't have a clear understanding of the opportunities in front of them, so they make some bad decisions."
Much has been made of Washington's debt to Coltrane, and similar energy and power on tenor, but as he explains, "The first people I was into were Art Blakey and Wayne Shorter. Then I got into Eric Dolphy, and Pharoah. Actually, I got into Miles Davis, which led me to Trane. Trane is like a really bright light. If you hadn't looked at it before, it's hard to see it. But once you can see it, you don't want to see anything else. It definitely changed my musical brain, especially with the intensity that I played with. With Trane, it feels like every time he plays, he's putting his whole being into it. There's nothing held back."
While playing in jazz band at Hamilton High School, Washington also studied classical piano, which he says led him into classical music, the works of Ravel, Stravinsky and Debussy. Following up on Coltrane's interest in Indian music, he too tapped into that world, and chose ethnomusicology as his major at UCLA.
"I started studying music from around the world," he said. "That's when I started to open myself back up to things I was into before I got into jazz. I never thought John Coltrane was superior to James Brown. He was just all I wanted to listen to, because I liked that music so much. It wasn't that I didn't like Dr. Dre; I was just very focused on jazz.
"Especially coming from Leimert, we felt that freedom and the avant-garde jazz sound, when you get into it, and you stay in it. A lot of times, that's the last destination, because it just feels good. It's hard to leave that. We were into this heavy avant-garde jazz and ended up with a lot of r&b, hip-hop and rock 'n' roll gigs that we would play. What we do is to bring all of that into one thing—in a way that happens with a purpose."
Washington's music is generally acoustic, with tentacles in hard-bop, Afrocentric jazz of the '70s and spiritualized modal group jams. Yet he believes it is an implicit but palpable ensemble "groove" that makes the strongest impact on listeners—whether they're veteran fans or novices with little connection to jazz (except maybe such incidental encounters as the solos on To Pimp A Butterfly).
Asked whether certain members of his audiences were perhaps responding to a type of groove that they hadn't previously encountered in a concert setting, Washington replied, "They sense it, and feel it. When they connect, it all comes together. Then, they start getting these other things: the chords, improvisation, the other stuff in there."
And does the band's overall energy make those new listeners more receptive to Washington's sometimes atonal sax solos?
"Yeah," he nodded. "I don't really know why, but I've seen that over the years. In the past, sometimes, they were not convinced. Now, I feel like they are convinced." DB