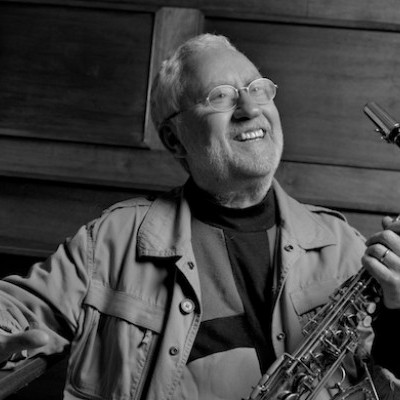 On the afternoon of May 4, when Lee Konitz was informed of his induction into the DownBeat Hall of Fame, he was not at his Manhattan apartment, his house in rural Poland or the apartment he keeps in Cologne, Germany.
Instead, the 87-year-old alto and soprano saxophonist was in a London hotel room, preparing to play a few hours hence at Ronnie Scott's Jazz Club in a quintet with trumpeter Dave Douglas, guitarist Jakob Bro, bassist Linda May Han Oh and drummer Jordi Rossy. The band would play Douglas' arrangements of tunes by Konitz and pianist Lennie Tristano, interpreting, among others, "Subconscious Lee" (a contrafact of "All The Things You Are") and "Kary's Trance" according to tabula rasa improvising principles similar to those Konitz and Tristano followed when they collaborated frequently between 1949 and 1952, at periodic intervals between 1955 and 1959, and a final time in 1964.
On the next day, Konitz and Bro, who had played three gigs in three days with Douglas, would depart for an eight-day, six-concert tour with guitarist Bill Frisell and bassist Thomas Morgan in Iceland, Denmark, the Faroe Islands, Norway and Greenland, during which they would apply similar aesthetics to Bro's beyond-category, 21st-century songs.
Konitz first visited Scandinavia in November 1951, as documented on spirited location broadcasts with local musicians that include "Sax Of A Kind," "Sound-Lee" and "All The Things You Are." Seven months before, he had played those and the 11 other tracks that constitute last year's release Lennie Tristano: Chicago, April 1951 (Uptown) alongside tenor saxophonist Warne Marsh in Tristano's sextet at the city's Blue Note Jazz Club.
Proprietor Frank Holzfeind, who taped the proceedings, only booked top-shelf national acts, a category to which Chicago natives Tristano and Konitz had ascended after several critically acclaimed recordings during the two previous years—Tristano's for Prestige and Capitol, and Konitz's for New Jazz. Before a friendly, not-too-loud audience, the sextet executes vertiginous unisons, stretching out soloistically and contrapuntally.
They also tackled the standards "I'll Remember April" and "Pennies From Heaven," which would spawn now-canonic variants like Tristano's "April" and "Lennie's Pennies," and Konitz's "Hi-Beck," which he had recorded a month before with a sextet that included Miles Davis, who had brought Konitz's sui generis alto voice to the Birth Of The Cool sessions for Capitol in 1949 and 1950.
That Konitz continues to seek and find new pathways through this core repertoire is evident from Douglas' reports of the British engagements and a new CD titled Jeff Denson Trio + LeeKonitz (Ridgeway), on which, accompanied by partners the age of his grandchildren, Konitz uncorks stunning alto saxophone solos on "Background Music" and Tristano's "317 East 32nd Street."
A few days after returning from England, Douglas recalled his surprise at Konitz's "radical approach to form" during rehearsals for the group's March debut at Manhattan's Jazz Standard. "The language itself adheres to the rules of Charlie Parker and Lennie Tristano—and Lee Konitz," Douglas said. "But everything starts as an improvisation, and the themes emerge from an unpredictable group improvisation. Everybody comes and goes. The song gets played in pieces. The full group is constantly involved in the elaboration of the form and the unfolding of the piece.
"Lee gave very specific directions. He said: 'When one person plays a line and the other person enters, they should start on the note that the other person ended on, and use a bit of the phraseology that the person was in—this is the way I used to play with Warne Marsh.' An intense ear-training thing. I think there's a parallel between Lee's ideas about how form and musical structure operate and the way Wayne Shorter works with his quartet."
Unlike Shorter, Konitz does not use metaphoric koans to describe the process that he follows as assiduously today as he did in 1949. The son of Jewish immigrants who ran a laundry and cleaning establishment in Chicago's Rogers Park neighborhood during the Great Depression, he explains his own no-safety-net improvisational intentions with pragmatic, nuts-and-bolts terminology.
"When I play, I'm not thinking of expressing sadness, or some picture-idea, or some way to make an emotional effect," he told collaborator Andy Hamilton in his authoritative autobiography, Lee Konitz: Conversations on the Improviser's Art. "I'm thinking of playing a melodic succession of notes, with as accurate a time-feeling as possible. I don't feel very poetic. I hear of people seeing colors or images or some spiritual motivation. I'm just playing the music clear, warm and positive—that's really my motivation."
Konitz's 2015 explanation to DownBeat was even more to the point. "I start from the first note, and trust something will happen if I give it a chance," he said. "It has to do with taking the time to let whatever note I'm playing resolve in some way, so I'm not just playing finger technique, one note after another nonstop, take a quick breath when you get out of breath. This is literally note by note."
A key component of Tristano's pedagogy was for students to sing the solos of Lester Young and Charlie Parker—to internalize them so deeply that they could then create their own composed variations and improvise upon them. That this remains fundamental to Konitz's aesthetics is illustrated in a two-and-a-half-minute vignette in the documentary All The Things You Are, where Konitz and pianist Dan Tepfer, en route to a November 2010 duo concert in France, scat Lester Young's heroic declamations on "Lady Be Good" and "Shoe Shine Boy."
In recent months, Konitz said, he has begun to bring this heretofore private activity into performance.