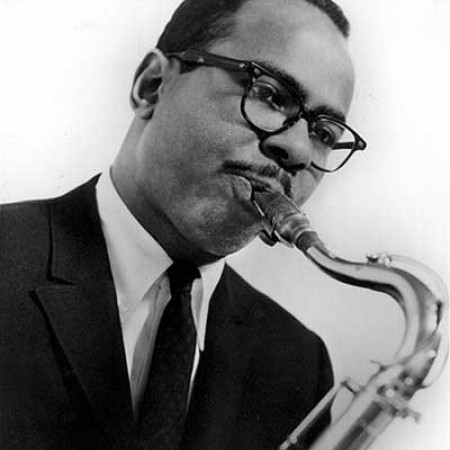 One of the most successful of this country's regular across-the-pond commuters is a man with several strings to his metaphorical bow, the talented composer, arranger and saxophonist Benny Golson. It was while playing tenor saxophone with Art Blakey's 1958 edition of the Jazz Messengers that Golson first made the trip to Europe—and established contacts that were later to prove beneficial. At the time, the Messengers were playing a number of his originals, and while no one overlooked his skill with the saxophone, it was as a composer that Golson made his mark.
Recently, he was in London to supervise and conduct the recording of his score for an as-yet-untitled German art movie featuring the world's Olympic skiing champions. By nature a gentleman, Golson nevertheless took this opportunity to sound off against the system that has unkindly pigeonholed his talents since he made his mark as a writer about 10 years ago.
"I don't come to Europe out of necessity," he maintained, "but in a desire for better things in my trade ... . Luckily, I'm kept quite busy in the States, and the last year has been my best, financially, to date. But even so, the bulk of my royalties come from Europe. It's a little distressing to find that in order to get the better things, one has to move to a foreign country. But in the States, I have a stigma attached to me. It's always Benny Golson—the jazz saxophonist, Benny Golson—the jazz writer, and once you have that label it's hard to move out of that tight circle.
"Consequently, if one wants to do a variety of things, it's a battle all the time, trying to show the people concerned that you can do more than just one thing. It's been hard for me at home up until two years ago, but immediately upon coming to Europe I had offers to do so many things."
He finds that working conditions in Europe compare favorably to Stateside facilities and that, being given full rein on every assignment, he has the necessary creative freedom. He's not hemmed in in any way, he said, and "the musicians are extremely easy to work with. I haven't had any real language problems because I've been fortunate enough to have people speaking English wherever I work. The talent and recording quality are good, though in certain areas it might be a little superior in the States."
He cited what he has found to be the main difference in his field between the United States and Europe: "It seems to me that the people in the driver's seat—the record company owners, producers and whatnot—are not afraid to take chances [in Europe]. Or maybe, they're a little more perspicacious. I don't know what it is, but they do take chances, and evidently they're not being too disappointed, because they continue to do so. The American businessman is probably a little more conservative."
For Golson, the days of "bebop or nothing at all" lie a long way behind. He still plays his horn occasionally, but it is significant that when he last visited Europe, he brought only the mouthpiece with him. Even so, he is quick to point out that he has no intention of forsaking the jazz world, which has nurtured him throughout his career.
"Of course, I'll never forget my first love," he said. "That'd be like asking me, 'Will you remember your name?'"
Golson, who started writing music in his early teens, enjoys music for its own sake, and if it weren't for being categorized in the jazz league, he would figure more often in the composer credits for quality pop albums. He is a bit bitter about the oversight.
"You never know when your name comes up and is rejected. The phone just doesn't ring."
When he writes for his own pleasure, he turns out songs in the Tony Bennett/Sarah Vaughan vein even though he said, "I'm not writing for that kind of market—I'm writing what I feel."
"In fact, I'm not composing now as much as I did before," he continued. "I used to compose a lot, but as I look back on it, I was composing indiscriminately. Sometimes I'd write two tunes in one day, but after I took stock of them, I'd see that you put 'em all in a bundle, and you might have just one good tune. So, then I started working a little bit slower and being a little more precise about what I was doing. I can't write a tune in one day now and expect it to be meaningful. I put the basic ideas down and then come back in a day or two, and if I still like it, I'll go on and fill it out and give it some form. And then once I've got the melody straight with the chords, I let it sit on the piano. Then I come back to it again and again, and when I see that I can no longer make any changes, the song is the way I want it to be. Before, it was just like a factory.
"I would write half a dozen tunes a day, but I think it's better to write less and to make each tune as strong as possible. And that's why I think I've been writing better songs."
For the past couple of years, 60 percent of Golson's writing in the U.S. has been done in the lucrative field of rock 'n' roll, "something that people are aware of," he admitted.
"I must confess, though, that this is not just a monetary thing with me," he added. "I found it to be quite adventurous. A lot of people laugh at me when I tell them them, but I got so that I could recognize good rock and bad rock. So, I tried to write good rock 'n' roll, something that has meaning to it.
"It was quite a challenge because, initially, I didn't know too much about the approach. I'd heard it superficially all around, of course, on jukeboxes, the radio and whatnot. So, I simply concentrated a bit more, and I found that I could get to the heart of what was going on. As a result, I started getting calls from the record companies. I had worked before with Bull Moose Jackson but—here we go labeling it again—that was more of an r&b thing. Rock 'n' roll is a little more aggressive; everything about it is very strong and demanding."
Golson genuinely is excited by any new opportunity to write good music aside from jazz and talked about other contemporary composers he admires. Burt Bacharach for one and Anthony Newley for another. Bacharach, said Golson, is extremely talented and the genesis of a new sophistication in pop music. Newley he places in the same category ("he writes memorable melodies"). Golson also cited The Beatles' Paul McCartney for his "Yesterday." In fact, he bought the sheet music and if he gets a chance, would like to arrange it—"and I'll tell you, I don't care who knows it," he said with a laugh.
One of Golson's main influences was the late Tadd Dameron, a composer preoccupied with beauty. The achievement of this quality is Golson's goal, too. Whether he succeeds, he said, is for the listener to decide.