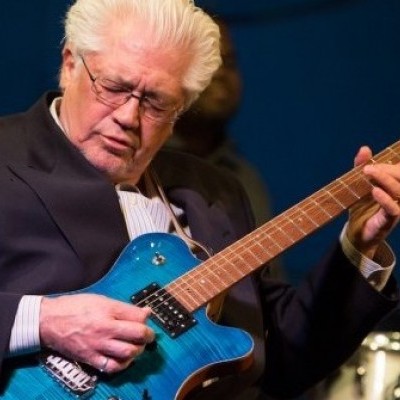 On Nov. 9, the day after Donald J. Trump shocked the world, Larry Coryell was sitting in his Orlando home, cussing out the president-elect, fuming about the outcome of the election and plotting an exit strategy for himself and his wife, Tracey. "We're going to move to Europe," he declared. "Now that Trump is in … we're going to make good on our promise to each other to move to either Germany or Ireland."
Coryell was clearly agitated as the reality of a Trump presidency was sinking in. "This is an unacceptable situation," he snarled into his phone. "We cannot let all the work we've done as jazz musicians to help relationships between people … we can't let all that go to hell. And that's what this election is going to do. It'll take us back to the Dark Ages and people will think that it's OK to be prejudiced again. Well, I don't accept it. We have to stand up. … [Trump is] an impostor, a huckster, and he's got to go. And because I'm a Buddhist I'm going to chant about it and try to turn poison into medicine, and just get deeper and deeper into my music."
The guitarist had already been deeply into his music through most of 2016, which proved to be one of the most productive years in his lengthy career. In January, he went into a studio in St. Augustine, Florida, and recorded a new Eleventh House project titled Seven Secrets (Savoy/429 Records) with charter members from 1973: Randy Brecker on trumpet and Alphonse Mouzon (1948–2016) on drums, along with John Lee (bassist on the group's 1975 album Level One and 1976 follow-up, Aspects) and Coryell's son Julian, a six-string shredder in his own right, on second guitar.
The results, which will be released in June, are electrifying. Fueled by Mouzon's big-as-a-house back-beats and power-precision fills, Daddy Coryell cuts loose with sheer abandon on several cuts, like his "Mr. Miyake" and Mouzon's kinetic 7/4 title track. Coryell deals in audacious string-bending on the blues-rocker "The Dip" and the earthy "Mudhen Blues," and delivers some Wes Montgomery-style octaves on the mellow "Having Second Thoughts."
But the real killer on Seven Secrets is Lee's "Dragon's Way," a 6/8 romp that will whet the appetites of true fusion fans. Sparked by Mouzon's slamming groove and Lee's slippery, singing tones on his resounding Rob Allen fretless bass (with ebony fingerboard and nylon strings), this catchy number also showcases the young Julian's mondo chops, which are coming directly out of the Steve Vai–Joe Satriani school. Papa Coryell follows those mind-blowing fusillades with something simple, lyrical, tasty and blue—a typically Zen response from the guitar master.
In May, Coryell went into the studio again, this time in Orlando, and with another crew of musicians. John Lee returned on fretless electric bass, making a formidable rhythm tandem with drummer Lee Pearson (from Chris Botti's band). Joining them on this session—a decidedly "jazzier" a air than the thunderous Seven Secrets session—were pianist Lynne Arriale and reedman extraordinaire Dan Jordan. Together they created Barefoot Man: Sanpaku (Purple Pyramid Records), Coryell's answer to his 1971 opus Barefoot Boy, which he recorded with drummer Roy Haynes, bassist Mervin Bronson, pianist Mike Mandel and saxophonist Steve Marcus at Electric Ladyland Studios in New York City.
"I made that [1971] record in the spirit of my seeking mind when I got to New York," the guitarist recalled. "I wanted to do some shit that was different. My attitude was, 'I'm gonna play like this may be the last time I will ever play, so I gotta make it good.'"
At age 73, Coryell still carries that same attitude to the bandstand. It's evident in his aggressive playing on both Barefoot Man: Sanpaku (which has him wielding a Gibson Super 400 jazz box, in the spirit of Wes Montgomery, a personal hero) and on Seven Secrets (which has him stinging on a custom C.J. Fearn model with distortion set on stun and wah-wah pedal fully engaged, in the spirit of the immortal Jimi Hendrix).
"Larry is the ultimate guitar hero," said bassist and longtime colleague Lee, who joined The Eleventh House back in the mid-'70s. "I don't know if anybody else around has mastered as many styles as him. There are few guys who can really get into a straightahead situation and go that route, then pick up acoustic guitar and play a great Brazilian feel or some classical. And the rock 'n' roll and fusion, well, we know about that."
Indeed, Coryell was one of the first jazz-trained guitarists to embrace rock and incorporate those hard-edged sounds into his own music, leading to the birth of jazz-rock, as it was initially called, or "fusion," as it got tagged later. You can hear some early examples of that rock-tinged energy on the frantic track "Jim-Jeannie" from Chico Hamilton's 1966 Impulse! recording The Dealer or the Chuck Berry licks inserted into his solo on the title track.
Coryell's subsequent experiments with The Free Spirits—tenor saxophonist Jim Pepper, rhythm guitarist Chip Baker, bassist Chris Hills and drummer Bob Moses—further bridged the worlds of jazz and rock, pre-dating the formation of Blood, Sweat & Tears, which also blended horns and rock rhythms with pop singing and jazzy improvisation. The Free Spirits' 1967 ABC Records debut, Out Of Sight And Sound, is often called the first-ever jazz-rock album. Although tunes like "Cosmic Daddy Dancer" and "Tattoo Man" meld the psychedelic aesthetic of the times with Coryell's tough guitar solos and Pepper's free-jazz flights on tenor, this LP, with its three-minutes-or-less-per- song approach, didn't reflect the way the band would stretch out in concert, opening shows for Hendrix and The Doors. Coryell left The Free Spirits shortly after the album was released.