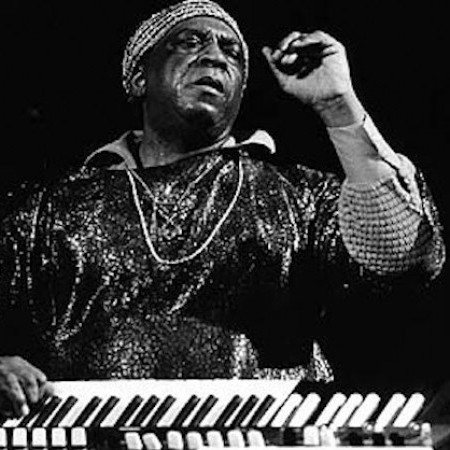 Sun Ra and Buddha seem to have things in common. Both have their own metaphysics and philosophies; complete conceptions of the universe. Each is a teacher, not a preacher; each has his own ideas to express, and others are free to accept or reject them as they choose.
And the gentle Sun Ra—polite, soft-spoken—has a Buddha-like confidence that he is traveling the particular path that will take him to his destiny.
Buddha, of course, has a few more followers. Yet Sun Ra's disciples seem totally devoted to their leader; they apparently absorb his music through a sort of osmosis, with an intuitive feeling for the complex sound cycles he creates and the spatial vibrations in which he specializes.
Who is Sun Ra? What is his Solar Arkestra?
Sun Ra can be compared to playwright Harold Pinter in his reticence to talk about himself. Like Pinter, the information he deliberately withholds is probably more pertinent than the little he lets out. Unlike Pinter, whose plays are almost specific in their ambiguities, Sun Ra's music is concrete and complete, strong and surging, yet chilling in its complexities and startling in its sonorities.
"Ra means god in Egyptian," he explained. "I always called myself Sun Ra. I can't remember ever having any other name."
His origin he keeps purposely vague. He is a short, rotund, genial man who looks to be 40 or so, but all he will admit to is that he was born "in the month of May, arrival zone USA." When he says that, his round face crinkles into an enigmatic smile; he knows; we have yet to discover.
Some aspects of his early history, however, are verifiable. He grew up in Gary, Indiana; Washington, D.C., and Chicago, where he became known before moving to New York in 1961. In Chicago, he wrote the music for the shows at the Club De Lisa, then a showcase for such jazz luminaries as Earl Hines and Billy Eckstine (the place was reopened a few years ago as simply The Club). In the late 1940s Fletcher Henderson was one of the leaders in residence there, and Sun Ra played piano in his band. (Then, strangely enough, he was Le Sony'r Ra to all others, but Sun Ra to himself.)
"I was playing my own inversions of the chords the way I felt them," he once said. "It disturbed the band but it didn't bother Fletcher."
Later, in Chicago—sometime in the 1950s—he organized his own band and played around the city wherever he could get a gig. The music was called by many names—Solar, Solar-Nature, Space—but orchestra was spelled "arkestra," then as today. And today in New York—where the band is now based, and from which location it has played dates around the country—the musicians and their conceptions are known collectively as The Space Music of Sun Ra and his Space Arkestra.
The Nucleus of the band is roughly a baker's dozen, although the ensemble has varied from a low of eight to a high of 22. More a family than an orchestra—most of the members left Chicago to make the move to New York with their leader, and several have been with him for 10 years or longer—they congregate around the Sun Studio in New York's East Village, a combination residence, rehearsal hall, studio and space station where the master and his disciples "work things out."
As thickly congested with clothing and accessories as a jumble shop, the studio is spray-painted with such cheerful colors as bright orange, sparkling silver, and solid gold. Nailed to one wall is an interesting piece of legal paper—a charter of incorporation issued by the state of Illinois on April 10, 1967 for Ihnfinity, Inc.
"The idea of Ihnfinity, Inc., is that everybody on this planet should have a share in the universe," Sun Ra explained. "We had to make it a profit-making corporation to get it stamped, and we wanted to make it profitable in a humanitarian way. So we did, and the state stamped it and gave us our charter. No one else has a charter to own space.
"Churches are always talking about immortality," he concluded. "But for righteous people only. I want everybody to have immortality. It's too big for one nation, one people, or even one planet."
Immortality might just be too large a subject to be successfully handled by anybody. However, it is to Sun Ra's credit that he is at least making the attempt.
When Sun Ra discusses the more introspective aspects of his metaphysics, his eyes gaze benignly as his facial expression becomes serious, almost stately; his voice is muted and subdued, yet clear and articulate as the words march out in measured cadence and assemble themselves like his musicians for the enlightenment of your mind and the entertainment of your ears.
"I'm in tune with nature and nature's vibrations," he said. "But most people are not. They're getting all kinds of other vibrations from outer space, bad vibrations. If any force from outer space were to attack this planet, they'd do it with vibrations. My music counteracts these vibrations.
"The planet is in confusion, and so are the musicians. Music is part of some great source, yet most musicians are just tapping in on the line. Early jazz was happy music, and today it's anything but that. There's no more brotherhood; everyone's gotten so mercenary. Now, all the musicians talk about is doing their own thing."
Ironically, Sun Ra too is doing "his own thing." To add a further note of paradox, it has been essentially a "new thing" that he's been doing for the past two decades, yet his music is really never put in that particular bag. Artists like Archie Shepp, Pharoah Sanders, Roswell Rudd, Ornette Coleman—and perhaps John Coltrane just before he died—are known as New Thingers, yet few include Sun Ra in this category.
To some ears at least, his music is strange. His space music, with its emphasis on extraterrestrial vibrations, seems more than music; spiritual, almost religious in feeling, as if something more than the waves from a pulsar star, many light-years removed from us in the outermost boundaries of unmeasurable space, is tuning him in to a cosmic consciousness.
Some of this music is available on record from the labels of Saturn, ESP and Delmark. But it is in New York that the sounds of Space Music are most frequently heard—in Central Park and Carnegie Hall, to name two settings for concerts he has conducted recently. (His two-nighter at Carnegie Hall last April saw the band backed up by a full-fledged light show—a perfect setting. But attendance was disappointing.)
The steadiest gig of all—and the place where he has been most consistently heard—is at Slug's Saloon, just a few blocks away from the Sun Studio. A dark, murky, wood-paneled pub, probably dating from the days of Maxwell Bodenheim, Slugs' has a casual easy-going informality in its atmosphere that affords Sun Ra the maximum of musical freedom and "feelin' good" that he misses so much from the early days of jazz. Here, as he has for almost every Monday night for the past 18 months, Sun Ra and his musicians "tune in, turn on, and take over."
The men shamble on stage, almost single file, dressed in the wildest dreams of any upper East Side boutique—fur hats, flowing robes, African print shirts, beads and bells. Their instruments and cases spill out into the drinking area, so small is the bandstand. Sun Ra, who perhaps is the most unobtrusive leader in jazz, since he always is found at the rear of the band rather than in front, sits astride his instrumental trio of piano, clavinette, and something he calls the Spacemaster—an organ especially manufactured for him by the Chicago Musical Instrument Co. that sounds like a cross between a theremin and bagpipes. Occasionally, he will play a one-stringed instrument he says is a Chinese violin.
His men tune up their instruments, which represent a veritable United Nations of sources. Chinese bamboo flute, bass clarinet and bassoon, Japanese koto, African koru, oboe and English horn, Sun Harp (a small harp designed like the golden rays of the sun that gives off beautifully resonant tones)—to name a few. Percussion, too, as every man doubles on at least one drum, and two or three are not uncommon—bongos, claves, maracas, conga, gongs, bells, and enough authentic African drums to equip a tribe.
The audience, as heterogeneous as the music that they'll soon hear, is quiet, respectful, and attentive. They may, however, become slightly restless during the next three hours—for that's the usual length of a set at Slugs', as the sounds of Sun Ra segue from one composition into another without stopping. His Space Music makes almost as many demands on his audience as it does on his musicians, and it's sometimes hard to ascertain who's the more exhausted after a night of six solid hours of music.
If Sun Ra speaks to the crowd, he will probably say: "I believe in beauty, and my music is happiness."
His music is also a "happening," in the more positive sense of that much-misused word. Like the best of jazz, it goes all the way back to the earliest blues, and moves forward through time as well as space to pick up multiple time signatures, tight ensemble voicings (especially in the reed section), brass fugues, constantly-changing harmonic variations and time signatures, atonal dissonances, and astringent melodies that splash upon the ears like vast tidal waves of sound, shifting and shading in volume and sonority; a sort of controlled chaos.
Through compositions titled "Angels And Demons At Play," "Rocket No. 9 Takes Off For The Planet Venus," "Spontaneous Simplicity," "We Travel The Spaceways" (which seems to be the band's theme, for the musicians flavor the tune with a cheerful vocal chorus about the delights of space travel), and a surrealistic setting of "King Porter Stomp," the sounds are evocative, introspective, intuitive and expressive; played with power, drive, precision and joy. And with plenty of percussion.
There are such outstanding soloists as Marshall Allen, the man on alto sax, oboe and bamboo flute; the bursting baritone of Pat Patrick; trombonist Dick Griffin; and boss tenor John Gilmore. Bassist Bill Davis and drummer Clifford Jarvis drive the rhythm section right into outer space.
Judging by audience response, the music travels the inner spaceways, too. DB