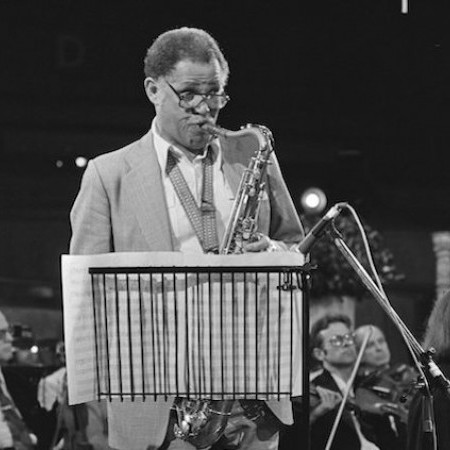 When Dexter Gordon won the Tenor Saxophone category in the 1971 DownBeat Critics Poll, the honor could hardly be considered premature. Gordon, who celebrated his 49th birthday last Feb. 17, is one of the great voices in modern jazz and has been a professional musician since the age of 17, when he joined Lionel Hampton's band. After a stint with Louis Armstrong, he became a charter member of Billy Eckstine's famed big band, with which he made his mark.
For nearly a decade, the tall, debonair tenorman has made his home in Copenhagen, Denmark, where this interview took place. From time to time, he visits the United States to perform (he appeared at the 1970 Newport Jazz Festival), visit with friends and relatives, check out the scene and record. (His 1969 and 1970 visits yielded an extraordinary series of albums for Prestige, all produced by Don Schlitten: The Tower Of Power, More Power, The Panther and The Jumping Blues.)
Why do you think you won the poll?
DG: Because I'm the world's greatest tenor saxophonist, ha, ha, ha! No, I really don't know.
Was it a surprise?
Yes, I would say so. I hadn't really thought about it, you know. ... I was always kind of curious to peek at the results, but it has never been a really big thing for me.
In what way can it be of importance to you?
Well, first of all, recognition—to have a little recognition, that is very nice, you dig. It is good for the ego, for the psyche. A recognition of what I've been trying to do for years—it's certainly not just a spot opinion; I mean, it's something that obviously has been building up for years. Of course, it is also very good for publicity, and it is the kind of recognition that maybe will help financially.
Do you think that these polls mirror the reality of what is happening in the music world?
You know, there are two kinds of polls. There's the critics poll, and then there's another poll where the readers write in. But one would say that the first is the, of course, more critical poll, because it's supposed to be music critics who are voting. But it doesn't necessarily reflect your popularity or name value.
Do you think that critics are able to judge who's best?
Well, it's an individual thing, but we must assume that if they are music critics, then they must know something about music. They spend a lot of time listening—they must know something about music in order to be able to write halfway intelligently about it. So, you have to assume that they do know something about it.
Do you think that music can be criticized?
I think so, but it should always be kept in mind that it is also a personal opinion. I mean, there's always a certain amount of prejudice, pre-judgment, in anybody's opinion—about anything, you know.
So, what would you say the critics have to go by?
Part of it must be comparison.
If you had lived in the States, would winning the poll have meant more when it comes to jobs and money?
Hmm—yes, I think so. But since this has happened, I've had all kinds of interviews for radio and the papers, and all of this is very good.
What has it meant musically to live in Europe?
Well, for me, it has been very good because my whole lifestyle is much calmer, much more relaxed. I can devote more time to music, and I think it is beginning to show. It's not that everyday scuffle, and I'm able to concentrate more on studying. Of course, the music scene is more competitive in the States. I think it would be very easy for an American jazz musician to come over here and just relax and play by rote, so to speak. But I think that's very rare, 'cause, you know, if a man is a musician, he is interested in music and he is going to play as much and study as much as possible. And I think most of the guys who have come over here have improved; there are some very good musicians over here.
What's the difference between audiences here and in the States?
I think the European audience has a more intellectual approach to the music, and in the States they're more demonstrative—the whistles and all that.
You go back to the States frequently. Is that to keep up with the music scene, with what's going on there?
In part, but also a lot of times I go back to record and to make a tour. But, of course, I'm very happy to do it, because it gives me an opportunity to dig and hear what's going on. After all, it's still the center—the new trends are coming from there.
What do you prefer to call your music—jazz or Black music?
What I'm doing—I prefer to call that jazz, because to me it's not a dirty word. To me, it is a beautiful word—I love it. And, I mean, if I were to call it Black music that would be untrue, because there are a lot of other influences in there. In jazz, there is a lot of European influence harmonically. Many of the harmonic structures of bebop come from Stravinsky, from Handel and Bartók. So, to say "Black music"—I don't know what that is, unless it would be some African drums or something. DB