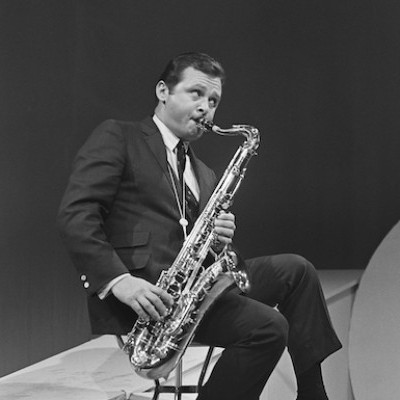 An American tourist who had picked up enough Danish to become aware of Danish radio's predilection for lecture series on turnip growing, and similar heavy fare, was surprised, when he turned on his car radio not long ago, to hear a broadcast of live jazz. To add to his bafflement, he thought he recognized one of the soloists with the big, swinging band. The tenor saxophonist sounded for all the world like Stan Getz. "It can't be," he muttered.
But it was. Getz, Joe Harris, Oscar Pettiford and other American stalwarts were wailing over the staid Danish airwaves.
Getz, one of the most creative and influential of American jazzmen and a consistent favorite of the U.S. public, is today living in Copenhagen—or rather, in one of its suburbs. With his pretty Swedish wife, Monica, and his four children (three by a previous marriage), he occupies a palatial home in Lyngby, which he rents from a university professor. It is not far from the summer residence of the Danish Royal family.
The Getz family has sunk itself into the life of Denmark. His children, with the linguistic ease of the young, have come to speak fluent Danish, and one of them even appeared recently in a play at his school. For his wife, the language presents no problem, since Danish is quite close to Swedish (the Swedes traditionally wisecrack that Danish isn't a language, it's a throat disease). Getz himself speaks only a few words of Danish. "It's impossible to learn," he says. "Besides, everybody in Denmark speaks English and everybody wants to practice his English on you."
All the evidence suggests that Getz has found in his expatriate life more health and happiness than his career has ever before given him.
Nor has living and playing far from the roots of jazz led to stagnation for the young saxophonist (he is only 33). He has found, like many American jazzmen who have become voluntary expatriates, that in the European life he has more time to develop, to try out new ideas. There are those who think that Getz is playing better today than ever before. American critic Ira Gitler, reviewing a European-made Getz LP in DownBeat, recently observed: "Getz sounds as if he is enjoying his expatriate life. ... He has reaped the benefits of relaxed living without being complacent about his playing."
The musician himself verifies this view.
"I'm tired of competition. I'm tired of tearing around making money," says Getz, who, until he settled in Denmark, was constantly on the go with concert tours, the nightclub circuit and recording work.
"There are other things in life than making money. Here, I have more time with my family. I don't make as much money as in the States, but it's cheaper to live here. And it's unhurried. I enjoy the relaxed way of living in Europe. I wanted to find peace of mind. That's hard to find in the States."
Getz is by no means the only American jazzman to take this view of America and leave. Europe today has a large and growing colony of American jazzmen. Getz's constant companion and best friend in Copenhagen has been bassist Pettiford, with whom he often works.
The first of the American jazz musicians to settle in Europe was, of course, Sidney Bechet, for whom France, where he died last year, had become home. Kenny Clarke moved to France; so did Bud Powell and Lucky Thompson. Trumpeter Bill Coleman lived abroad so long that he is virtually forgotten in America. Tenor saxophonist Don Byas chose Holland for a home, married a Dutch girl, and has been living abroad for 10 years.
Others chose Sweden, another country that is particularly hospitable to jazzmen and their talents. Former Dizzy Gillespie drummer Joe Harris hopped off during a tour and stayed, and is now married to a Swedish girl.
Quincy Jones has spent more time in Europe than in America in the past three or four years, working a great deal in Sweden. Trumpeter Benny Bailey, another Gillespie alumnus, had been living in Sweden for three years, until he joined Quincy's big band during its European tour recently.
Some of these expatriates are fugitives from the American scene—fleeing from personal problems, or from the American concept of the Age of Anxiety. A few are fugitives from more tangible things—high taxes, racism, the disjointed family life that is so often forced on the American jazzman.
Getz and Pettiford evidently got tired of the pressures of life in America.
In Copenhagen, the two musicians are most likely to be heard in the Club Montmartre, a jazz room tucked away behind the facade of one of the ancient buildings that line a meandering street in the inner city. In many ways Europe's most unique jazz spot, the Montmartre has no sign outside its door. Indeed, it has no other identifying mark than a giant photo of Count Basie that stares at you from the outside wall. Yet, jazz fans and musicians have no trouble finding it. They gravitate toward it with the unerring instinct of a Sahara desert camel galloping toward an oasis for replenishment.
The Montmartre is run by Anders Dyrup, a tall, good-looking, blond Dane who first heard jazz 16 years ago when someone played him Artie Shaw's recording of "Traffic Jam." He was smitten on the spot and long ago began making plans for a jazz club—plans that came to fruition last year with the Montmartre.
The Montmartre is dark and smoky, lit only by candles that cast long, moving shadows, like claws, across the walls. You have trouble discerning the grotesque puffed-up heads set in relief on the walls.