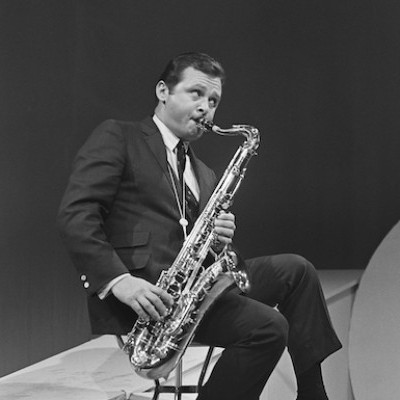 The hipsters who come to dig jazz sit on long benches at rough-hewn tables, sipping heady Danish beer. The girls wear tight skirts, lowcut blouses, Brigitte Bardot hairdos, and no makeup. The men wear beards and sweaters and Caesarean haircuts and smoke pipes. They look terribly earnest and sit in frozen postures while the musicians are blowing. The dance floor remains polished from lack of use, and the boor who dares to tap a finger to the rhythm is caught in the crossfire of a dozen icy stares.
Owner Dyrup and his wife, Lotte, who is hostess, chef and waitress in the place, have in the last year been hosts to such assorted dignitaries as Buck Clayton, Gerry Mulligan, Helen Merrill, Art Farmer, Mose Allison, Kenny Clarke, Kid Ory, Bengt Hallberg, Jimmy Rushing, Art Blakey, and sidemen from the bands of Benny Goodman, Duke Ellington and Dizzy Gillespie. Gillespie himself tried to get in during a recent visit to Copenhagen, but gave up when he saw the waiting crowds.
The Montmartre also has a very good house band, the personnel of which has, at various times, included Don Byas, Oscar Pettiford, Benny Bailey, Joe Harris, Kenny Clarke and Dan Jordan, a young bassist from Detroit. The leader of this group is Stan Getz.
Why, of all the places where Getz might have chosen to live in Europe, did he choose Denmark—which is better known for its Tuborg beer, atom-splitter Niels Bohr and Hans Christian Anderson, than for jazz?
For one thing, there is the nature of the people: The Danes never seem to fail to enchant foreigners. The screwball style of humor of Victor Borge, which seems so unique to an American, is not uniquely Borge; it is uniquely Danish—and it is commonplace here. The Danes have a remarkable flair for living, and have no hesitation in giving in to their inner desires and yearnings. We all remain children at heart, but only the Danes have been willing to admit to it. Only they could have built a remarkable establishment such as the Tivoli, the charming amusement park for adults as well as children that seems to give physical being to the fairy tales.
Then there is the Hans Christian Anderson mermaid of bronze that sits on a rock in Copenhagen harbor. What other people would build a statue not to the poet but to the product of his imagination?
Then, too, Denmark is an inexpensive place to live. And there is virtually no poverty in the country. There are no slums, there is no hunger. On top of that, audiences here are remarkably receptive to jazzmen.
"More people like good music here," Getz says flatly.
Finally, Getz has encountered a particularly sympathetic audience in Danish jazz critics, on whom it might be well to spend a few moments of consideration.
The Danish jazz critics have an amazing knowledge of what is going on both in Europe and (thanks largely to records) in America. If they have a fault, it is that they are analytical to the point of pedanticism. At times, their deadly seriousness becomes amusing.
Probably the most influential Danish jazz writer is Torben Ulrich, a musician and tennis star. He is also by far the most ponderous and cantankerous of the critics, rarely missing a chance to take his fellow critics to task for their inferior judgment. In this way, he is not unlike some of the American members of the critical brotherhood.
In a recent column in Politiken, one of Denmark's two largest papers, which has two weekly jazz columns, Ulrich told me some of the things that pain him about Danish jazz. Danish musicians, he contended, tend to rush headlong into each new direction in jazz without a firm grasp of what they are doing.
"I'd like to see a bit more contemplation," he chided the Danish jazzmen. "Slow down and give yourselves time to absorb."
He told the story of a local musician, who after he had been listening to Getz, Zoot Sims and Lee Konitz, then became aware of Sonny Rollins and John Coltrane. "He suddenly discovered that Rollins and Coltrane had been deeply hidden within him all along," Uhlrich scoffed. "It's precisely because Europeans are able to discard Sims, Getz, and Konitz so easily and so carelessly that one doubts that they are able to get something out of jazz which is closer to its roots."
In other words, the critical devotion to Getz in Copenhagen is great.
"Getz has a fabulous technique," another critic wrote. "Hearing him strengthens your belief that he may well be the best instrumentalist in jazz today."
Actually, despite what Ulrich's criticism would seem to suggest, Getz is not taken for granted by the local jazzmen. If anything, they, like the public, tend to idolize him.
As yet, Denmark has not contributed to jazz any musicians of international stature, such as Sweden's Arne Domnérus, Belgium's Bobby Jaspar, France's Martial Solal, Germany's Rolf Kühn. But the day will no doubt come, as Danish musicians come under the increasing influence and stimulation of their American colleagues—and particularly with men of the caliber of Getz and Pettiford living and working in their midst.
Among the top men on the jazz scene in Denmark are Max Brüel, a baritone saxophonist who is also a top Danish architect; Erik Moseholm, an accomplished bass player who doubles as a school teacher; and Louis Hjulmand, vibist, who is also a bank clerk. Brüel and Moseholm can be heard on an EmArcy disc, Cool Bruel. There is also Bent Axen, a gifted pianist who directs the Jazz Quintet '60.