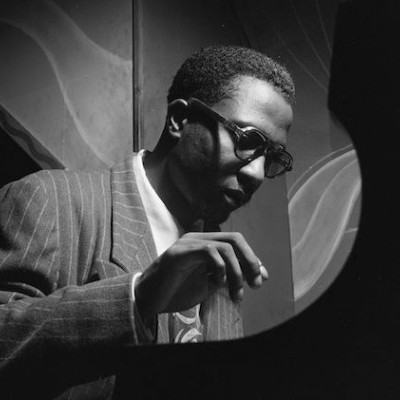 NEW YORK—I have interviewed Thelonious Sphere Monk.
It's not like having seen Pinetop spit blood or delivering the message to Garcia. But on the other hand, it's at least equal to a scoop on the true identity of Benny Benzedrine or on who killed Cock Robin.
Thelonious, the George Washington of bebop, is one elusive gent. There's been much talk about him—about his pioneering role at Minton's, where bebop began, about his fantastic musical imagination, about his fine piano playing. But few have ever seen him. Except for people like Diz and Mary Lou, I didn't know anyone else who had seen very much of him, either.
Come to think of it, I had seen him once, at the club where Dizzy's band was working some time ago. Even without his music, which was wonderful, you could recognize his cult from his bebop uniform: goatee, beret and heavy shell glasses. His were done half in gold.
I listened in fascination until he got up from the keyboard. "And who," I finally inquired, "was that bundle of bop?"
"Why, Thelonious Monk."
But by that time the quarry had disappeared.
Meeting Is Arranged
Finally, through the good offices of Mary Lou Williams, a meeting with Thelonious was arranged. In order to take some pictures in the right setting, we went up to Minton's Playhouse at 208 W. 118th St.
In the taxi, on the way up, Thelonious spoke with singular modesty. He wouldn't go on record insisting he started bebop. But as the storybooks have long since related, he admitted he was at least one of the originators. Yes, he continued, verifying the oft told tale, it all began up at Minton's in early 1941.
Teddy Hill had broken up his great orchestra because of problems brought on by the draft, poor transportation facilities and the like. He had bought into the tavern owned by Morris Milton (who had been the first colored delegate to the New York local of the musicians' union). Teddy eventually took over active management and instituted a policy of good music.
Guys In Band
As a starter, Teddy called together some of the boys who had played in his last band, including trumpeters Gillespie and Joe Guy and drummer Kenny Clarke. There was also Nick Fenton on bass. Monday night was the big night at Minton's. Bandleaders like Benny Goodman, Tommy Dorsey and Johnny Long would come in to visit. And practically every jazz man of merit in town sat in at one time or another. Charlie Parker, who had come to New York with the Jay McShann Orchestra, appeared often and became a regular.
"Bebop wasn't developed in any deliberate way," Thelonious said. "For my part, I'll say it was just the style of music I happened to play. We all contributed ideas, the men you know, plus a fellow called Vic Couslen, who had been with Parker and Al Hibbler in the McShann band. Vic had a lot to do with our way of phrasing."