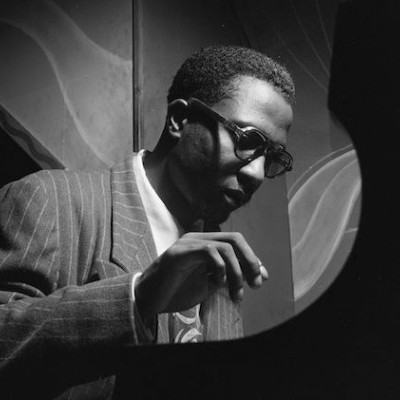 Piano Focal Point
"If my own work had more importance than any others, it's because the piano is the key instrument in music," he continued. "I think all styles are built around piano developments. The piano lays the chord foundation and the rhythm foundation, too. Along with bass and piano, I was always at the spot, and could keep working on the music. The rest, like Diz and Charlie, came in only from time to time, at first."
By the time we'd gotten that far, we had arrived at Minton's, where Thelonious headed right for the piano. Roy Eldridge, Howard McGhee and Hill dropped around. McGhee, fascinated, got Thelonious to dream up some trumpet passages and then conned Thelonious into writing them down on some score sheets that happened to be in the club.
Hill Gives Credit
Hill began to talk. Looking at Thelonious, he said: "There, my good man, is the guy who deserves the most credit for starting bebop. Though he won't admit it, I think he feels he got a bum break in not getting some of the glory that went to others. Rather than go out now and have people think he's just an imitator, Thelonious is thinking up new things. I believe he hopes one day to come out with something as far ahead of bop as bop is ahead of the music that went before it.
"He's so absorbed in his task, he's become almost mysterious. Maybe he's on the way to meet you. An idea comes to him. He begins to work on it. Mop! Two days go by and he's still at it. He's forgotten all about you and everything else but that idea."
While he was at it, Teddy told me about Diz, who worked in his band following Eldridge. Right off, Gillespie showed up at rehearsal and began to play in an overcoat, hat and gloves. For a while, everyone was set against this wild maniac. Teddy nicknamed him Dizzy.
Dizzy Like a Fox
"But he was Dizzy like a fox. When I took my band to Europe, some of the guys threatened not to go if the frantic one went, too. But it developed that youthful Dizzy, with all his eccentricities and practical jokes, was the most stable man of the group. He had unusually clean habits and was able to save so much money that he encouraged the others to borrow from him, so that he'd have an income in case things got rough back in the states!" DB