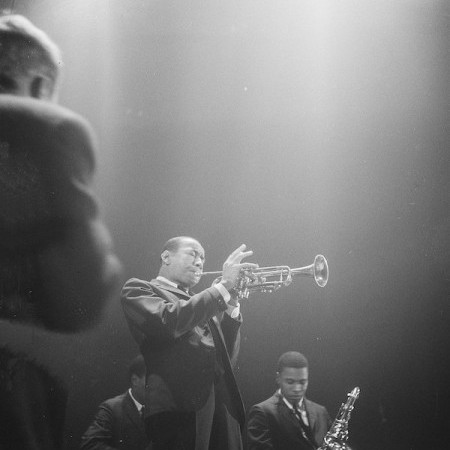 "The first rock 'n' roll group I was in—me and Archie Shepp, and Reggie Workman for a while, too—was Carl Holmes and the Jolly Rompers." Thirty-one-year-old trumpeter Lee Morgan—at 18 a member of Dizzy Gillespie's State Department band, long-associated with Art Blakey's Jazz Messengers, writer of "The Sidewinder" and leader of his own quintet—was illustrating a point.
"Music is coming so close together," he said. "Everybody's using a little bit of everybody else. A tremendous amount of beautiful material is coming from rock musicians, from Burt Bacharach, from Broadway musicals and motion pictures.
"Now, you hear rock tunes with beautiful changes. You'll see now that, as soon as a tune comes out—especially if it's a nice one—just about every form will adopt it. You might hear strings or somebody singing it or a guitar or a jazz group will put an arrangement on it. That means everybody experiences more."
When Morgan was coming up, he recalled, he played bar mitzvahs and Polish weddings. At Mastbaum High School for the Arts in Philadelphia, he majored in music and half his day was spent in some form of music—composition, harmony, solfeggio. There was a concert orchestra, a concert band, a dance band, a marching band.
"I've been through all that, besides the jazz—and rock 'n' roll," he observed.
One could almost feel the backbeat as Morgan reminisced by singing a bit of the Jolly Rompers' version of "Things Ain't What They Used To Be."
"All that is a beautiful experience," he said. "It's all our music. Jazz, rhythm-and-blues, spirituals. Look at Aretha Franklin, Sam Cooke. They came out of churches.
"I don't like labels. If you can play, you can play with everybody. Look at Coleman Hawkins, Joe Henderson. Whatever you prefer, you'll find sufficient quantities of talented musicians who prefer the same. But you should never limit your mind. With the new thing coming in, I'm one of those who prefer to swing a lot. But I've experimented with free forms, like on Grachan Moncur's Evolution and Andrew Hill's Grass Roots—playing without the rhythm, against the rhythm, disregarding it—the whole freedom thing. ... The avant-garde organist who plays with Tony Williams—Larry Young. I made an album with him, and the next week one with Lonnie Smith, a whole different thing. Then Reuben Williams had me and George Coleman, and we did some pretty show tunes, things by Burt Bacharach."
But with regard to jazz, Morgan expressed a view nurtured in anger over its treatment.
"For one thing, if they gave our music a chance on television and AM radio," he said, "you'd be surprised how many people would be listening to it.
"The people who control the media work on a low level. East Side/West Side [the 1963–'64 TV series] showed things, like interracial marriage, drug addiction, things that mean something to people. It was halfway good, so they took it off. Green Acres and The Beverly Hillbillies stay on. They insult us. They try to make you feel that your whole life is going to be straight if you use this deodorant. The guy's marriage is falling apart, and all this is because he ain't tried Listerine.
"I'm sure that if they exposed jazz and all the other arts, the people would go for it. But they don't want to because once people start thinking, they'll do more and more of it. Jazz is a true thing, and it's got to be surrounded by truth. And they don't want to get into truth—not when they can do something else and make just as much money.
"I really can't understand why they don't get behind it. They could make their money from it. You know, if they can get on television and sell Playtex girdles ... and tell you about midriff bulge and all that, they damn sure can sell some music if they want to. They say, 'Jazz is too hard to sell.' They've sold the Maharishi Yogi and Ravi Shankar playing sitars and everything. They can sell anything and make it packageable, make it commercial."
Jazzmen wouldn't have to be on the air all the time, in Morgan's view, but perhaps it would be nice to turn on the TV set once or twice every few months and see "maybe a concert by Duke Ellington's band or even an hour in color featuring the Miles Davis Quintet.
"They do show you a few concerts by the New York Philharmonic with Leonard Bernstein explaining to the kids," Morgan noted, "but this [jazz] is the only thing America has that's really ours. Television makes you think jazz is Herb Alpert and the Tijuana Brass or Louis Armstrong singing 'Hello, Dolly.' Louis Armstrong is a true jazz musician, but television won't show you. When I was with the Messengers, the Japanese and the English did television features on us. Everybody but our own people. The only exception was Steve Allen, but Steve's a musician himself.