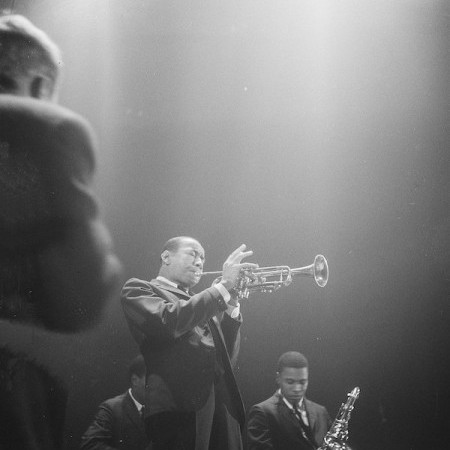 "If a guy comes into a record company and says, 'Look, give me $1,000 for publicity for the Fifth Dimension'—it could be any of those rock groups—solid. You come in and ask for $200 to pay for two 30-second spots to advertise a jazz record, and they look at you like you're crazy. They just don't want to spend any money.
"It's almost like a conspiracy. It would help them to advertise. Everybody could make money from the music, but everybody is happy to keep the level of AM daytime listening in a trash bag."
The U.S. Information Agency makes propaganda specials, Morgan said, pointing out that last spring there was one featuring Nipsey Russell with Billy Eckstine, Joe Carroll, Etta Jones "and a guy from the Metropolitan Opera." Morgan was on it, too, with a big band. "It'll be shown all over the world to foster good relations with our government," he said, but added, ruefully, "probably nobody here will ever see it."
"Even superstars like Miles Davis and Duke Ellington don't get the exposure of Leonard Bernstein and the New York Philharmonic," he said. "Maybe this music of ours isn't meant for the masses. But he's held as a great conductor, and he lives in a penthouse, and he's rich, and he conducts the New York Philharmonic in Lincoln Center. And Coltrane had to be playing in Slugs'. That's the difference.
"See, Leonard Bernstein plays to a minority audience, too, because everybody can't like symphony orchestras. But symphony orchestras are subsidized. And jazz should be subsidized. This is the only thing from America. The United States ain't got nothing else but what we gave it, man. And that seems to be the reason it gets the short end of the stick of everything."
Though angry about the mass media, Morgan is happy about the young people of today.
"Thanks to them," he said, "music has gotten much better. And when I was a kid, white people had one way of dancing and we had another. Now, everybody dances the same. Rock and jazz—it's all good music. Now, you go over to Europe, and you might be on a concert or a TV show opposite The Doors, and it would be very successful. The ones in charge in the United States don't want to do this. Like I said before, jazz is still a thing that's dominated by Blacks. At first, there was blues and rhythm-and-blues, and then the white man got a hold of it, and it was rock. Rock didn't start in Liverpool with the Beatles. All that long hair and stuff came later. But most of the whites got the most money from it."
Noting that the work of some successful rock groups has an intricacy comparable to jazz, Morgan observed that even with its new hipness, rock "is selling millions. So, I don't want to hear that stuff about they can't sell jazz, because the music's gotten so now that rock guys are playing sitars and using hip forms, and Miles is using electric pianos. Music's gotten close. There are no natural barriers. It's all music. It's either hip or it ain't." DB