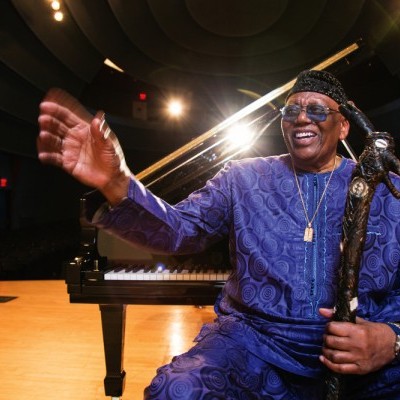 When DownBeat last spoke to Randy Weston in the summer of 2014, the master pianist-composer, then 88, was planning to issue The African Nubian Suite, a recent opus he'd recorded in concert at NYU's Skirball Center in April 2012. For that occasion, documented on a self-released double CD that dropped in June, Weston convened an array of distinguished Afrocentric artists—including an expanded, five-horn version of his African Rhythms ensemble; various percussionists, string players and singers; and the late Jayne Cortez intoning a commissioned poem in her singular argot—to illuminate a text narrated by Wayne B. Chandler, author of Ancient Future: The Teachings and Prophetic Wisdom of the Seven Hermetic Laws of Ancient Egypt. As historian Robin D.G. Kelley accurately observes in the program notes, "In one single work, Weston manages to pay tribute to the ancient tombs of Sidi Bilal in Aswan, the Sufi tradition, the holy city of Touba in Senegal, China's great Shang dynasty, African folk music, the timeless history of the blues, and the unity of humankind." Weston dialogues with each participant in notes and tones, and emcees from the piano bench, revealing exhaustive knowledge of how the traditions intersect.
On the occasion of his induction into the DownBeat Hall of Fame—and about a month after his 90th birthday—Weston discussed this summational piece over brunch in the art-filled dining room of his home in Brooklyn's Clinton Hill neighborhood. He inherited the house from his father, who ran a restaurant on the premises from 1946 until the 1970s. Sitting with impeccable posture at the head of the table, Weston, who appears not to have lost an inch from his 6-foot 8-inch frame, followed his musical practice of stating a core motif, then fleshing it out with theme-and-variations of gradually increasing complexity and depth.
"My dad told me, 'Listen, we are older than corruption, we are older than colonialism, we are older than slavery; for you to understand me and your mother better, you've got to go back to Africa,'" Weston said. "So, when I was a boy, I'd go to libraries and museums to read about Nubian civilization, the great Egyptian civilizations before there was a West Africa."
Weston originally conceived The African Nubian Suite as a large ensemble project. "That changed because of Jayne Cortez," he said. Weston explained that he'd seen a CNN piece on Ardi (Ardipithecus ramidus), the 4.5 million-year-old female hominid skeleton unearthed in the Ethiopian desert in 1994, and "wanted to honor that this lady is our original mother." He asked Cortez (1934–2012) "to write a poem about women, in particular the African woman, going all the way back. I wanted her to do it with African drums. She agreed. Then she called to say she wanted me to play piano behind her.
"I started to think about what magical process happened when the African came in contact with a European instrument. For example, I told Howard Johnson to describe on tuba how he imagined Ardi walked through the forest. I asked everybody to do the same with each individual instrument. For us to go ahead, we have to go all the way back, and find out how our ancestors created all this music. They were greater than us. It's an amazing story."
Weston's own amazing story is comprehensively documented in his 2010 autobiography African Rhythms (with co-author Willard Jenkins) and in a lengthy chapter in Kelley's 2012 book Africa Speaks, America Answers: Modern Jazz in Revolutionary Times. Weston's achievements will be further illuminated after the summer, when he transfers his extensive archives—containing 70 years' worth of manuscripts, recordings and printed ephemera— to Harvard University. But as his latest album indicates, Weston enters his 90s with no intention of shifting into retrospective gear. In his forward-looking attitude to musical production, he embodies the "ancient future" paradigm practiced by jazz icons such as Max Roach, Thelonious Monk and Dizzy Gillespie— all of whom were hands-on mentors during his formative years—and early heroes like Duke Ellington, Coleman Hawkins and Count Basie.
As we spoke, Weston was preparing to fly to Morocco, his second home since 1967, to play with African Rhythms at the Gnaoua World Music Festival in Essaouira, to be followed by summer festival appearances at Spoleto, Montreux, Jazz à Vienne and Detroit. In January, he attended the Panama Jazz Festival, which dedicated this year's edition to him in recognition of his father's Panamanian roots.
On April 28, Weston assembled African Rhythms for the fifth and final public concert he'd curated during 2015–'16 as the first-ever artist-in-residence at the New School for Jazz and Contemporary Music. The series began with a retrospective of Weston's life and career moderated by Kelley. It continued with separate events at which Weston played and spoke with traditional Gnawa musicians from Morocco and master drummers from Senegal, and a symposium on the evolution of the drum through the African diaspora, in which Lewis Nash interviewed drummers from Guadeloupe, Haiti, Trinidad, Morocco and Cuba, who each spoke about their village, picked a song and played it with a specific rhythm.
Weston was far from blasé about his entrance into the DownBeat Hall of Fame. "I'm overwhelmed," he said. "I am so happy that I can't express it. See, the old people would say: 'Your destiny has already been written. You've been given certain powers at a certain time.' They said, 'The Creator will give you this, and the Creator will take it away. But what you deal with is music.' So, I tried to take the best of everyone I heard. This is Randy Weston, who the piano teacher gave up on completely. I cut music class at Boys High School. I didn't become a professional until I was 29, because I had no confidence that I could even touch the feet of Tatum and Hines and these people I love with a passion.