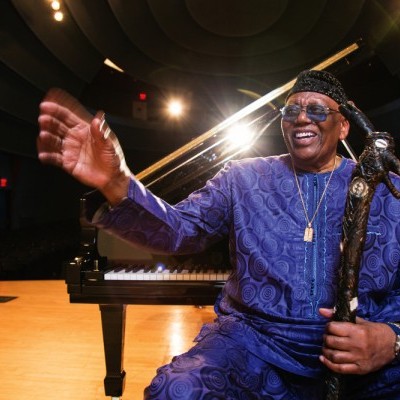 Max Roach, also a Boys High alum, lived nearby, and Weston took frequent breaks to visit. George Russell, then convalescing from tuberculosis in Roach's house, was working on "Cubana Be, Cubana Bop" for Gillespie's recently formed big band, sometimes joined by Gillespie himself and trailblazing Cuban conguero Chano Pozo. Russell introduced Weston to Schoenberg's Pierrot Lunaire, which struck him as "interesting but kind of cold," and also to the corpus of Alban Berg, which affected Weston deeply.
Concurrently, Weston started to compose tunes, earning validation on an occasion when Roach, hosting Charlie Parker, his employer on 52nd Street, asked Weston to "play something for Bird," who responded favorably.
"I'd sit and absorb what these giants said," Weston said. "I had no idea I'd be a musician. My father, God bless him, wanted me to be a businessman. He wanted his son to be independent. Pop was fully aware of the racism in New York—in America, period. Segregation was serious! Even in Manhattan, we couldn't go to restaurants. But Mom and Pop kept that spirit."
Another transformative breakthrough occurred in 1951 at the Music Inn in the Berkshires, where Weston took a summer job as a breakfast chef. After completing his daily obligations, he played piano in the evenings. "Three older ladies told me they were having a recital, and wanted me to play," he recalled. "I told them I didn't play Bach or Beethoven, but they said, 'No, we want to hear what you play at night.' Then I realized I had something to say on the piano. But I was still very shy."
Not long thereafter, Weston met the pioneering jazz historian Marshall Stearns, a bespectacled Caucasian professor of English with degrees from Harvard and Yale, who specialized in medieval literature. Stearns conducted colloquia at the Music Inn that offered a university-level education in the threads that connect jazz to the traditional music of the ethnic groups and regional styles of West Africa. "Marshall was the squarest-looking guy you'd want to see," Weston said. "But he was Pan-African. He encouraged me to listen to older pianists like Jimmy Yancey and Meade Lux Lewis, who approached their instruments in a way closer to Africa. He brought in Macbeth the Great, a famous calypso singer, and I heard the French quadrille, which inspired me to start writing waltzes. He brought in John Lee Hooker and Jimmy Rushing, and did a 15-minute interview with Mahalia Jackson on African spirituality in the black church."
On another occasion, Stearns arranged for a presentation by ethnomusicologist Willis James, who played field hollers that proceeded in 5/4 time; dancers Asadata Dafora and Katherine Dunham presented possibilities for sounds in motion; drummers Babatunde Olatunji and Candido authoritatively executed the rhythms for all to see and emulate.
Eventually, Stearns invited Weston to accompany his popular lecture demonstrations. After he suffered a heart attack in 1958, he asked Weston to deliver them. On Stearns' recommendation, the U.S. State Department recruited Weston—who had visited and played in Nigeria in 1961 and 1963—to bring a group to tour in West Africa and North Africa at the beginning of 1967. "That's when I realized I was an ambassador," Weston said. "Marshall died before I had a chance to thank him. He taught me how to do the history of jazz."
It could be said that, circa 2016, Weston—lineally connected to a timeline spanning Eubie Blake and Luckey Roberts to Ornette Coleman and David Murray—embodies the history of jazz in his own person. After soundcheck for the final New School concert, he stretched out on a sofa in the compact dressing room, listening to saxophonist/flutist T.K. Blue, bassist Alex Blake, percussionist Neil Clarke and tenor saxophonist René McLean trade stories about Slugs' Saloon and the dangers of navigating Manhattan's Lower East Side during the '60s and '70s. When directly addressing Weston, they called him "Chief."
"It's not something he claims," Clarke said of the designation. "Randy is a chief by acclamation. He's so generous, so inquisitive, so unflinching in his love and respect and appreciation for Africa. He'll tell you the story of the creation of every single one of his songs, and the approach shifts. You don't play licks or patterns. You participate in telling that story."
Clarke has propelled African Rhythms for 20 years, sometimes within a uniquely configured percussion setup assembled from congas, djembe, cymbals and tambourine, sometimes playing alongside a drum kit player, sometimes not, always in uncanny synchronicity with Blake, whose approach to the bass evokes the guembri, a low-tuned Gnawan lute.
Weston told Pérez that using Clarke as sole percussionist provides him space to create harmonic color. "They all have digested the language, and that raises the level of freedom," Pérez said. "When I hear the trio, I sometimes don't know who's soloing. They break down any preconceived idea about interaction, and connect it to the experience of the African neighborhood."
Indeed, it is impossible not to notice how spontaneous and unpredictable Weston is, how rarely he repeats himself. He was asked how he sustains this optimistic, fresh perspective. He pointed to Fatoumata Weston, his Senegalese-born wife, whom he met in Paris in 1996.
"Every minute, I'm in Africa with her," Weston said. "Everything she does—what she thinks, what she cooks, the clothes she makes for me—is African. And she's from a spiritual family. I have a Senegalese family. Her daughter's children treat me as grandpa. So, even if I try to go off the path, I can't, because there's my wife. She's constantly giving. I can't over-emphasize the importance of that. Dizzy would give. Eubie Blake. Duke. Max. Always giving. We got married in Nubia. The Creator said, 'This is your wife.' And I go with the flow." DB