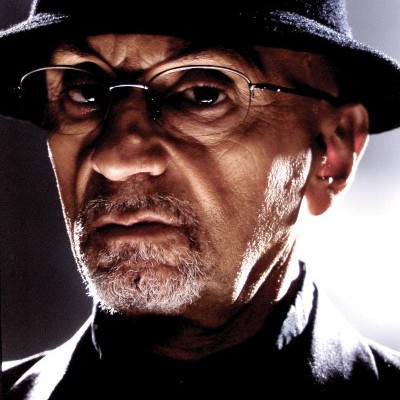 In 1993, four years after the breakup of the Soviet Union, trumpeter Tomasz Stańko, Poland's most prominent jazz musician, met three teenagers — drummer Michal Miskiewicz, bassist Slawomir Kurkiewicz and pianist Marcin Wasilewski — who had recently launched the Simple Acoustic Trio. Having signed to ECM around this time, Stańko was working the international circuit with a quartet of European all-stars that included pianist Bobo Stenson, bassist Anders Jormin and drummer Tony Oxley. For local gigs, though, he was looking to hire less expensive, Polish musicians.
"I didn't have a drummer," Stańko said on a raw, rainy New York afternoon that evoked springtime in Warsaw. Trim at 66, a black beret covering his shaved head, circular glasses framing his gaunt, goateed oval face, he looked like a character from the pen-and-ink illustrations the Polish writer Bruno Schultz created for his short stories of the 1930s. Stańko wore a well-tailored jacket with a brown check, pressed blue jeans and buffed brown leather shoes. He spoke precise, thickly accented English, with idiosyncratic turns of phrase.
"Someone told me about this young drummer, the son of Henryk Miskiewicz, a good, swinging mainstream saxophone player," he said. "I figured he'd have a good groove, and accepted the recommendation. Then I took a risk and brought his bass player, Slawomir, also a young guy. We had a gig in some small city in the south of Poland. I arrived just an hour or two before, we rehearsed for a few minutes, then played. They were fast, like professional people—maybe don't know too much, but played good. Good swinging. I decided to keep them. Marcin was pushing them to recommend him to me, and a few months later I took him.
"Bobo and Tony are two of the best European musicians, but they were different, fresh," he continued. "Their education is different. For example, for Michal it is natural to have in mind Tony Williams, Jo Jones, Philly Joe Jones and Jack DeJohnette — everybody combined together. They know this from history. Not like me, step after step."
Fifteen years later, Stańko and his quartet, an international draw since the 2001 release of The Soul Of Things, the first of their three ECM albums, were involved in another transition. Joined by tenor saxophonist Billy Harper the previous evening at the Museum of Modern Art, they'd performed repertoire by Polish pianist Krzysztof Komeda (1931–'69) in conjunction with a summer series that included films that Komeda scored during the '60s for the Polish filmmakers Roman Polanski and Jerzy Skolimowski.
That evening at Birdland, the trio, now headlined by Wasilewski, launched a U.S. tour in support of January, its second ECM release, before embarking on the 2008 summer festival circuit. All on the flip side of 30, after seven years of performing at least 100 concerts a year with Stańko, they were preparing to leave the nest and begin their own career.
Oriented by a single 45-minute soundcheck, Harper played with flair and passion throughout the concert, showing an affinity for Komeda's Strayhorn-esque "Ballad For Bernt." "I like that I engaged with Billy," Stańko said. "I wanted a sax player in Komeda's style, with the open mind to play free, but sounds like mainstream — modal — what now is typical."
Such ideas were anything but typical 45 years ago, when, at Michal Urbaniak's recommendation, Komeda, like Stańko a resident of Krakow, called the 22-year-old trumpeter — then deploying the freedom principle à la Ornette Coleman and Don Cherry in a combo called the Jazz Darings — to join his band.
"Komeda was the top Polish musician, and his record from [Polanski's 1962 film] Knife in the Water was fantastic," Stańko said. "I loved this music, and it was a dream to play with him. People don't speak too much about it, but it was modern music for this time. He liked the same things as me — simplicity, lyricism and combining two things together, like predisposition to the tradition, but also open mind for free, modern things."
For sonic evidence of how in-the-zeitgeist Komeda's modal, polytonal compositions were, consult two YouTube clips of his 1967 quartet, or, if you can find it, his 1965 quintet album Astigmatic, which can be mentioned in the same conversation with contemporaneous Blue Note dates of similar sensibility by Cherry, Andrew Hill and Sam Rivers. Stańko navigates the inside-out pathways in his improvisations, deploying the multihued, vocalized, tragicomic sonic personality that remains his trademark. In 1997, at the instigation of ECM head Manfred Eicher, he reconstructed a suite of Komeda pieces on the CD Kattorna.
"Komeda's pieces, especially from the last period, do not get older," Stańko said.
He referred to "Requiem," which Komeda wrote in 1967 in response to the death of John Coltrane, and which Stańko interpreted on his 1997 Komeda celebration, Litania: The Music Of Krzysztof Komeda.
"This is not exactly jazz composition," Stańko said. "Everything is written — order of solos, these bridges. But still, it is jazz composition. With whomever I play, it sounds different. His compositions live their own lives. Three notes only, sometimes. One small motif, and this ballad inside. This is what the best jazz compositions have — power inside. They have their own logic, like a computer program. He cared for every detail, even a half-note higher or lower."
In Stańko's view, Komeda developed characteristic syntax and themes from fulfilling the narrative imperatives of the plays and films he scored. Indeed, although he denies any programmatic intent, Stańko's own investigations have the quality of an imaginary soundtrack.
"Many times, this angularity that I liked in Komeda's music comes from movies," Stańko said. "Sometimes motifs have to be longer, sometimes shorter. Sometimes he'd have to give more bars to make a longer motif. Then he finds this original composer style. To me, though, music is abstraction. This abstraction means not sad, not happy. It's music. This is the color of this art."
However Stańko conceptualizes musical flow, his ideas gestated after the death of Stalin in Soviet Bloc Poland, where musicians and filmmakers were granted a degree of mobility and freedom of expression unavailable to the public at large. He was born to a family whose cultural mores might serve as a paradigm of the pre-war intelligentsia — his father was a judge who doubled as a professional violinist, while his mother was a librarian in a conservatory. The teenage Stanko soaked up Italian neo-realist cinema ("all the Fellini") and existential novels and tracts (Kafka, Schultz, Sartre), and he regarded painters like Modigliani, Kandinsky and Klee as gurus. He decided on trumpet after seeing Dave Brubeck play in Krakow in 1957, and listened to Miles Davis ("I liked that he don't play too much, his control of the band, the contrast between him and sax players"), Don Ellis ("he was playing and starring in Poland"), Booker Little with Max Roach and Abbey Lincoln ("he was my favorite because of legatos—I love legatos"), Cherry with Coleman, and Bill Dixon with Cecil Taylor.
"I formed through art, not only through jazz," Stańko said. "I have always predisposition for novelty, for avant-garde, something new, and I like artist-desperadoes. Because in this life, you get illumination, like Charlie Parker. Jazz musicians have this illumination. Illumination built this modern music. If I was listening to Coltrane at the Village Vanguard, 'Chasin' The Trane,' I didn't know it was blues. For many months, I assumed that this was free. Then I recognized, 'This is only the blues.' Instinct dictated to us.
"The filmmakers were influenced by jazz — especially Polanski. Jazz musicians have a big position in Poland at this time throughout the society. We could travel. We were often in Paris.
"Komeda was a couple of times in Copenhagen, because we had concerts. I had a tailor, and paid a lot of money for clothes. I want to feel fashionable, good-looking, attract the ladies. Our position was high. Probably these Communist Party people were a little bit snobby for these artists. Maybe the children were into more of these different people. Probably they don't feel danger from music, from jazz. Jazz for them was the same for us, a synonym of freedom."
"In the beginning, we were focused on America, on American playing, because the Communist time had passed away," Wasilewski said, the day after the trio that now carries his name played a sold-out set at Birdland.
"We grabbed from ECM recordings from the '70s, like Jack DeJohnette and Jon Christensen with Keith Jarrett and Jan Garbarek," Miskiewicz said. "Miles Davis, John Coltrane, Tony Williams, as well as Kenny Garrett, Wynton Marsalis' Black Codes From The Underground, the Branford Marsalis Quartet."
"When I was 5 or 6, I was competing with my cousin, because we had only one Walkman," Wasilewski said. "I heard tapes like Michael Brecker or Pat Metheny, Volumes 1 and 2 of Keith Jarrett's Standards, some of Jack DeJohnette's New Directions. Good ECM records. I didn't know I was listening to great music."