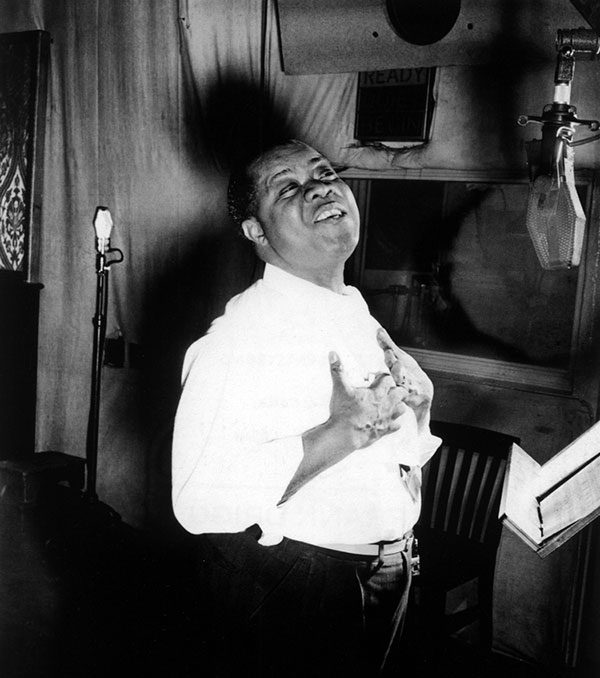 The Complete Louis Armstrong
Decca Sessions 1935-46
(7 CDs)
This is the first-ever major retrospective of this period. For the most part, the recordings represent Louis Armstrong leading the big band. Never had Louis sounded more secure, more hip, or more like a star. His example was an important beacon that popular standards were a legitimate repertoire for significant jazz recording stylists.
Jump into this box set collection and land in a nice, warm bath of Louis' joy. Armstrong, who struggled with lip problems on and off through his career, entered this phase after a significant layoff. Healthy and hearty, his performances as a jazz trumpeter and vocalist are first rate. Some of the performances are among the most significant of his life and a lasting gift to jazz — there isn't a trumpeter since who hasn't marveled at the brilliance of Armstrong's tone, coherence of his soloing, and perfection of his execution on the 1938 "Struttin' With Some Barbecue." It is, plain and simple, a flawless jazz record.
For this Louis Armstrong box set release, we went back to the original record sources — Decca's metal parts and lacquer discs — and lovingly restored and remastered everything to Mosaic's exacting musical standards. Our seven-CD box set delivers 166 tracks, including rare alternate sides. The collection includes our exclusive booklet with a number of rarely-seen session photographs; an essay by noted jazz historian Dan Morgenstern; a complete, corrected discography of the sessions clearing up a number of published errors; and all seven CDs, beautifully packaged in our distinctive Mosaic box set.
REVIEW
DownBeat
/

November 2009
★★★★★
Armstrong's Virtuosity Peerless Then,
Valuable Now
By Ted Panken
No corpus of jazz recordings carries greater influence than the 169 tracks that make-up The Complete Louis Armstrong Decca Sessions (1935-1946) (Mosaic MD7-243, 74:17/77:43/65:17/64:15/68:04/ 77:08/69:36), documenting the maestro at the peak of his powers, when vigor and maturity equally coexisted. From the first track ("I'm In The Mood For Love") through the last ("Frim Fram Sauce"), Armstrong delivers the goods with extraordinary consistency.
During the years leading up to World War Two, Armstrong was an international star, and these sessions showcase him as a virtuoso of the trumpet and a charismatic entertainer without peer. In the matter of notes and tones, he plays with unparalleled levels of imagination, technique and conceptual sophistication. As Miles Davis stated in a remark cited towards the end of the booklet essay, Armstrong foreshadowed every vocabulary development that would transpire on his instrument.
Vocally, Armstrong addresses repertoire that runs the gamut of Swing Era concerns—classics and trifles from Tin Pan Alley and Broadway (47 are the work of major American Songbook composers); "Mexican" and "Hawaiian" exotica and other novelty numbers; some 20 New Orleans and Chicago classics from Armstrong's own canon; a suite of spirituals; collaborations with the Mills Brothers, Sidney Bechet, Jimmy Dorsey, the Casa Loma Orchestra; and a spoken word homage to Bert Williams. He unfailingly sells each lyric, execrable or sublime, as though his life depended on it, shaping the syllables and articulating the words with deep soul. The proceedings serve as a reminder, if one is needed, that Armstrong is the source of of Bing Crosby, Frank Sinatra, Ella Fitzgerald and Billie Holiday (compare the Armstrong and Holiday versions of "You're A Lucky Guy" and "You're A No-Account," recorded within five days of each other in December 1939).
On the other side of this coin, Armstrong's producers, true to the cultural mores of segregation, assigned him a number of songs with a highly racialized, sometimes antebellum orientation—"Shoe Shine Boy," "Carry Me Back To Old Virginny," "The Old Folks At Home," "Shanty Town on the Old Mississippi." That Armstrong, ever smiling, projected equally vigorous levels of mojo on "that's where I labored so hard for old master, day after day in the fields of yellow corn" as to, say, "Jeepers Creepers," "Ev'ntide" and "Solitude," was increasingly problematic for a consequential percentage of his African American audience, especially after World War Two. As the popular culture soundtrack transitioned to r&b and rock 'n' roll, and as jazz expression became increasingly complex and political in the '60s and '70s, younger listeners increasingly tuned out Armstrong as a figure who seemed as mainstream as mom and apple pie.
Which perhaps is why such classics as "You Are My Lucky Star," "Struttin' With Some Barbecue," "Lyin' to Myself," "Swing That Music," "Poor Old Joe," "Jubilee" and "Wolverine Blues" are less well-known than they ought to be among today's serious jazz folks who are not hardcore Armstrong fans. Few of the latter will possess a copy of Armstrong's privately recorded "Happy Birthday" for Crosby, which is a small part of the value-added that ranks this set as a must-buy for all comers. One reason is the sound—Andreas Meyer is to be commended for the quality of his transfers and remasterings. Another is the booklet, filled with rare photos that complement the profound, exhaustive annotation, at once essay, meditation and memoir, by life-long Pops-lover Dan Morgenstern. DB