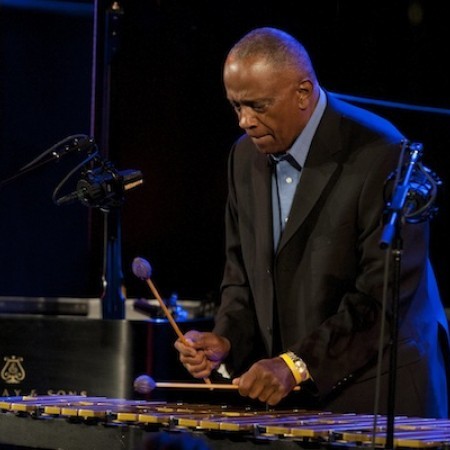 The picturesque stretch of Highway 1 along the Pacific Ocean coastline between San Francisco and Santa Cruz may not be as dramatic and isolated as the spectacular Big Sur drive farther south below Monterey. But, except for a few close-to-the-cliff curves where a car could accidentally soar off the pavement and plunge 100 feet to the jagged, saltwater-drenched rocks below, this relatively unknown span of two-lane blacktop makes for a cruiser's paradise. Twenty miles south of San Francisco on Highway 1 sits the sleepy, idyllic town of Montara, population just shy of 3,000. Its lighthouse, built on the point in 1875, has been converted into a popular hostel, and the mile-long state beach is one of the finest on the coast.
Just off the main drive, hunkering down for yet another damp winter by feeding his brick fireplace with split Monterey pine, sits Bobby Hutcherson, the innovative National Endowment for the Arts Jazz Master who forever changed the progressive potential for the vibraphone with his improvisational mallet prowess. While he didn't pioneer the full blooming of the vibraphone from being a novelty instrument — Lionel Hampton deserves the props, followed by Red Norvo, followed radically by Milt Jackson — Hutcherson took the vibes to a new level of jazz sophistication with his harmonic inventions and his blurring-fast, four-mallet runs across the metal bars amplified with motor-driven resonators. Today, he's the standard bearer of the instrument and has a plenitude of emulators to prove it.
Even though Hutcherson's stick action may have slowed a tad, his passion for music surely hasn't, evidenced by last year's album Somewhere In The Night (Kind of Blue). Recorded live in 2009 at Dizzy's Club Coca-Cola at Jazz at Lincoln Center, the disc captures the vibraphonist collaborating with B-3 organ maestro Joey DeFrancesco, guitarist Peter Bernstein and drummer Byron Landham. It's a rousing bebop-to-blues-to-ballads outing where DeFrancesco delivers fire with his brio and brusque voicings while Hutcherson gracefully dances with a cool finesse that thrills and even tosses in vibes fillips to complement his partner's sprightly velocity on Duke Ellington's "Take The Coltrane."
But since that gig, Hutcherson has been laying low for several reasons, one of which is a well-deserved respite from the career-long full-tilt action that made him one of jazz's most prolific recording artists, as a leader and as an in-demand session man.
"It's nice and green here, and it's raining like mad," Hutcherson hoarsely says in a bicoastal telephone conversation. "Montara is wonderful." The 72-year-old Los Angeles native made his way to New York in the early '60s and then, unlike most of his peers, returned to the Golden State in 1967, continuing his bandleading duties for Blue Note Records from his West Coast base, first in L.A. and then later in San Francisco. It was his experimental soul-blues 1971 Blue Note recording San Francisco, featuring the funky hit tune "Ummh," that solidified his stay.
"That song and album got a lot of airplay, so I made some money," Hutcherson says with a laugh. "My wife and I agreed that we should do something special. So in 1972, I bought an acre of land in Montara and built a small house on it. The acreage and house cost me $39,000. That was one of the smartest investments I've ever made."
Born in Pasadena in Los Angeles County, Hutcherson's jazz education came from his older brother Teddy, who listened to records by Art Blakey in his room with his friend, Dexter Gordon — the future tenor star whom Bobby was destined to play with years later (on records as well as in the CBS All-Stars band at Havana Jam in 1979 and in Bernard Tavernier's 1986 film Round Midnight).
Bobby's older sister, Peggy, was a singer who performed in Gerald Wilson's 17-piece jazz orchestra (she was later a Ray Charles Raelette) and who dated locally based reedman Eric Dolphy and later tenor saxophonist Billy Mitchell.
Even though the young Hutcherson was surrounded by jazz, he didn't fully dive in until he was 12 when he was walking down a Pasadena street and heard Jackson's swinging vibes blaring from a record store. The tune was "Bemsha Swing" and the Prestige album was Miles Davis And The Modern Jazz Giants, recorded in the mid-'50s. Hutcherson bought it, wore it out listening to it, and then began saving money while working as a bricklayer with his mason father to buy a vibraphone like his new hero. After he got it, he began playing in town with friends, including bassist Herbie Lewis. He played with Dolphy as well as saxophonist Charles Lloyd at such venues as Pandora's Box on the Sunset Strip.
Through his sister, Hutcherson got to know Mitchell, who had recently left the Count Basie Band in 1961 and co-founded a new group with ex-Basie trombonist Al Grey. "Billy needed someone to play piano parts on the vibes," Hutcherson recalls. "My first gig with them was at The Jazz Workshop in San Francisco opposite Charles Mingus. Billy then asked me if I wanted to go with them to New York, where they were going to play Birdland, opposite Art Blakey."
That's where Hutcherson got his first taste of the city's strange grit. The date with Mitchell and Grey was a two-week stint. As Hutch was assembling his vibraphone for the first night, the cigar-smoking emcee of the club, Pee Wee Marquette, blew smoke in his face and told him to get off the stage. "We don't need you," he said. "We've already got Lionel Hampton and Milt Jackson." Marquette was known for making it hard for emerging youngsters to get recognition by deliberately mispronouncing their names.
"He'd mess your name up unless you gave him a nice tip for the announcement," says Bobby. "At first he called me Bubba Hutchins and other names. People would laugh. It was a two-week engagement, so finally after the first week, I gave him five bucks. The next week he introduced me as Bobby Hutcherson."
The Mitchell-Grey band went on the road, mostly on the chitlin' circuit, and then broke up, leaving Hutcherson to fend for himself in New York. He settled in, living in the Bronx on 165th Street. "I grew up with grass and trees," he says with a laugh. "New York City was quite a different spot. But I knew I had what was best there to get things going musically."