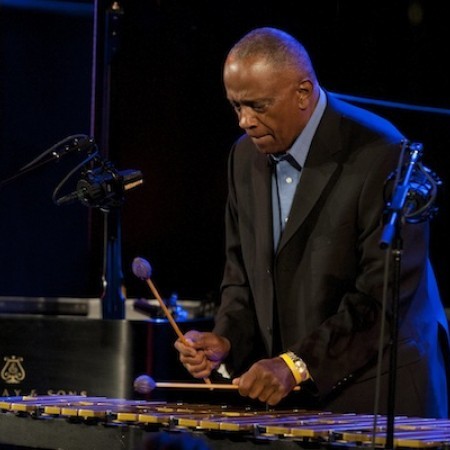 Cowell says that the band was definitely in the zeitgeist of the turbulent anti-establishment era. "We were all embracing the political content of the music, versus issuing the traditional and conventional," he says. "Our approaches varied. We used sounds prevalent at the time and played in a free form. Our resources were expanded as we set out to re-examine the music. The apex for me came at a concert we had in Antibes [France]. There were great moments at that show where we combined pulses with a great deal of freedom within a fixed form. Bobby was doing these incredible cadenzas. The last time I saw him, he still was. He's a happy person."
Hutcherson's move from SoCal to San Francisco was hastened by a Pasadena friend, Delano Dean, who opened up the Both/And club (which is where he met his second wife, Rosemary Zuniga, who was a ticket-taker). There was a lot of activity there, not only at Keystone Korner, The Jazz Workshop and the Blackhawk, but also in Golden Gate Park. He set up roots in the city and later, Montara.
Henderson also made the move to San Francisco. The tenor saxophonist and vibist formed a trio with drummer Elvin Jones and toured the country. "Joe and I became very close," Hutcherson says. "He always had a hair-cutter there. When we were on the road, I brought along a pair of shears and gave him haircuts."
One time after a tour, Henderson called Hutcherson up in the middle of the night.
He said, "Hey, Bobby, what are you doing?"
Hutcherson replied, "What's going on? Is there some record date or a concert?"
"No, will you come over and give me a haircut?"
"It's 4 a.m."

"Come on over and we'll have a good time."
Hutcherson went, snipped and ended up staying there until the next afternoon, hanging out and talking. He heartily laughs when he tells the story, adding that he's got so many more great stories that his wife and three sons have encouraged him to write a memoir.
He laughs again, then notes that he's slowing down. "I'm not the dynamo I used to be,' he says, laughing again. "I have emphysema, and I'm breathing oxygen while I'm talking to you. I can't play long solos like I used to be able to, and I don't play quite as fast because that takes a lot of oxygen." During the winter months with Montara's cold, wet weather, it's been rough for Hutcherson, who has been hospitalized several times in recent years. Still, he says, "My doctor keeps telling me I'm doing well. That way I can continue to share my life and my music. What a reward that is."
DeFrancesco seconds that notion. "Bobby is the greatest vibes player of all time," he says. "Milt Jackson was the guy, but Bobby took it to the next level. It's like Milt was Charlie Parker, and Bobby was John Coltrane."
DeFrancesco first played with Hutcherson in a duet setting in 2002 at Pittsburgh's Manchester Craftsmen's Guild, on the suggestion of the executive producer, Marty Ashby, and the pair continued playing in a trio setting with a drummer. As for Somewhere In The Night, the booker for Dizzy's Club, Todd Barkan, knew Hutcherson from his days at Keystone Korner. (Barkan has been relieved of his Jazz at Lincoln Center duties and now curates shows at the Iridium.) "It was incredible," DeFrancesco says. "The music was harmonically deep and so soulful. Bobby picked everything to play. When you play with a legendary guy, you let them play in their element."
One time in recent memory when Hutcherson was totally out of his element was when he was asked in 2003 to be a founding member of the SFJAZZ Collective. He was the elder statesman working with an array of young jazz stars, including saxophonists Joshua Redman and Miguel Zenón, trumpeter Dave Douglas and pianist Renee Rosnes. Hutcherson stayed on until 2007.
"That was four wonderful years, and I was the old guy in the group," Hutcherson says. "It was something completely new to me. I was thrilled to play, but I was also very humbled. What a learning experience that was — being with the younger players. I learned forgiveness, to forgive myself. I wasn't able to play as fast, and sometimes I'd miss notes and feel bad. But all the players made me realize that I had to forgive myself and keep going. That was the biggest lesson. And I continue to work on this every day. It's a good practice." (On Jan. 23, Hutcherson played at the SFJAZZ Center's grand-opening concert.)
Looking back at his career now, Hutcherson waxes philosophic. All the trophies he's received and the plaques pegged on his walls aren't the point, he says. "Slowing down, I see a lot more," he says. "The real plaque for me is to be able to share my music with others." He pauses and then adds, "There's still a lot to be revealed." DB