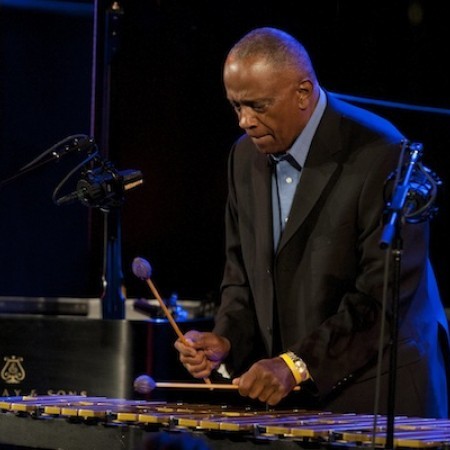 Even though the Mitchell-Grey band disintegrated, Hutcherson contributed to recording dates by both musicians as well as took on moonlighting gigs as a taxi driver to make his rent. As he began branching out more on his own, he soon faced the New York scene full on. He linked up again with Lewis, who was playing with trumpeter Art Farmer and saxophonist Benny Golson in the Jazztet, alongside Grachan Moncur III on trombone. Lewis was hosting jam sessions at his pad and Moncur, after hearing Hutch play, said that it would be good for him to meet saxophonist Jackie McLean, whose band he was also playing in.
"Jackie liked what I was doing with four mallets, so he asked me to play with him at the Club Coronet, where he was introducing a young drummer from Boston," says Hutcherson, who doesn't feel that he needs to identify Tony Williams (who was 17 at the time). "Jackie called Alfred Lion at Blue Note to see the band. Lion wanted to record the group, so we all went off to Rudy Van Gelder's [studio]."
The 1963 album was McLean's classic One Step Beyond. Hutcherson continued playing with an assortment of Blue Note artists, including Moncur, Andrew Hill, Grant Green and L.A. pal Eric Dolphy. "Eric had heard about this new young band Jackie had put together for the Coronet date," Hutcherson says. "He came in and was surprised to see me. He told me that he wanted me to do some gigs. Eric had a thing. He played two octaves, playing the chords from the first octave followed by chords from the second. He opened up these amazing possibilities."
Case in point: Dolphy's sole Blue Note album, the 1964 gem Out To Lunch, where Hutch displayed the avant-garde modus operandi to expect the unexpected, collaborating with Williams, trumpeter Freddie Hubbard and bassist Richard Davis. Offering unpredictable floating accents and sly drop-ins, Hutcherson shines throughout, including the Dolphy-penned track "Hat And Beard" (inspired by Thelonious Monk) where the vibraphonist contributed plunks, splashes and shimmers that have a prankster vibe.
"I began hearing all these other ways of playing," Hutcherson says. "That was wonderful for me to be living in New York and to be a part of the jazz renaissance of that time." Early in his Blue Note stint (which continued until 1977), Lion gave him carte blanche to record his own albums as a leader. "He told me, 'Listen, you make all the albums you want. Just call me and you can record.' So that's what I was doing every couple of months."
This estimation confirmed what others in the jazz world had already realized: Hutcherson was an adventurous improviser who wasn't afraid to barrel through the barriers of the dominant hard-bop jazz world.
Hutcherson's Blue Note debut, The Kicker, was recorded at the end of 1963 but mysteriously shelved until 1999. Other sessions met with the same stockpile treatment, including Spiral, recorded in 1968, and Medina, recorded in 1969, which were released on CD in 1998 as a double album. But several of his outings managed to see the light of day in the '60s, including his first album to be released, 1965's Dialogue (made during the time that he was playing with Archie Shepp). His 1966 masterpiece Stick Up! was his first date with McCoy Tyner and featured his collaboration with Joe Henderson.
But Hutcherson's New York experience came to an abrupt close in 1967 while he was recording a date with Hill. At the rehearsal he and drummer Joe Chambers took a break and scored a couple of joints to kick back in Central Park. They were busted by the police and thrown into jail. Musician friends at the club Slugs' passed the hat to post bail for him. But Hutcherson lost not only his cabaret card (the guarantee to perform anywhere in New York that was abolished not long after) but also his taxi driver's license. So, he moved back to Southern California, where he joined up with hard-bop tenor saxophonist Harold Land and began their long-running creative union, starting with Land's 1968 quintet record The Peace-Maker (Cadet).
With the cabaret card no longer needed in New York, Lion called Hutcherson to continue his recordings — this time as a collaboration with Land. The underappreciated band recorded seven albums for Blue Note, beginning with 1968's Total Eclipse (with Chick Corea on piano) and continuing through 1975's Inner Glow. The former proved to be a marquee outing for the group, where hard-bop entered into the exploratory zone. The album dips in and out of Hutcherson's daredevil sensibility, with inventive vibe romps and pure elation. The trippy finale, "Pompeian," is a questing voyage with a whimsical open and close and a complex middle section that is avant-leaning and charged as Hutcherson paints dark colors on the marimbas.
"I had been doing a lot of writing then," he says. "I was experimenting with moving intervals in my playing, doing seconds and thirds to fourths and fifths. It was creating a different sound instead of typical jazz lines. The intervals were opened up. The idea was to try to make it sound simple even though it was music that was hard to figure out. Harold started playing the intervals, too, so that we could bounce off each other. Actually, I got a lot of my ideas from Joe Chambers, who was always trying to change the recipe. 'Pompeian' is full of the intervals playing — which actually reflected the scene that was going on in San Francisco at the time."
In addition to Corea, other pianists joined the Hutcherson-Land band, including Joe Sample and Stanley Cowell. "Joe Chambers hipped me to Stanley," Hutcherson says. "He was a guy with a direction. He had great ideas and he showed me a lot about beats — playing on top of the beat or in the beat or behind the beat. He would create a whiplash situation, like a weather system that comes in and creates a pow. And then it circles around and boom! It's almost like a punch line. It's the kick like the tail end of a cup of coffee."
Currently chairman of the jazz program and professor of jazz piano at Rutgers University, Cowell began his New York experience in the '60s with Max Roach. Then he was called by Miles Davis, but quit after playing two gigs with him in Montreal and Boston. The situation was too controlled for him, so he worked with Charles Tolliver and then Stan Getz, connecting often with Chambers, who brought him into the Hutcherson-Land fold.
"Bobby was one of the most relaxed people," Cowell says. "He was a wonderful player, but he did it in a relaxed way. When we were touring, he never rushed to the airport. We'd all be panicked that we were going to be too late, but he just relaxed and took his time — and we never missed a flight. Behind his back, we called him California Dreamer."