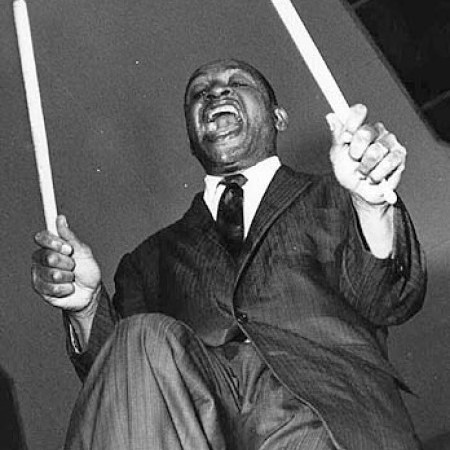 Known as the master of the vibes, king of the drums and creator of the two-fingered piano, Lionel Hampton has endeared himself to millions of people throughout the world. But it's not only his music that has brought about his popularity; it's his generosity. As far back as 1936, Hampton's artistry was recognized when DownBeat rated him the most exciting artist of that year. Since that time, Hampton has had more glory heaped upon his humble person until, as Red Skelton recently said, "Hamp's the greatest exponent of jazz alive today."
Hampton's 17-piece band enjoys itself while in action more than any other band in the country, because they prance all over the stand as they entertain the crowds. During their latest Las Vegas session in the Starlight Lounge of the Riviera Hotel, every entertainer along the Strip turned out nightly to listen.
"An entertainer's entertainer," is the way Hamp is known to all those in the business, which has helped make him one of the most successful bandleaders in the world. Last year, Hampton grossed more than $1 million, and he did it without particular benefit from record sales.
The first instrument Hampton learned to play was the drum, and this when he was a mere lad in a Catholic school in Wisconsin.
"You know who taught me to play the drums?" asked Hamp with a grin. "It was a nun. She was strict! I wanted to play the skins left-handed, and she'd take the sticks and beat my knuckles. Man, she was a hard nun!"
When he was 16 and out of school, Hampton began his musical quest by visiting with bands and asking all kinds of questions. Seeing that the future was on the West Coast, Hamp headed for California where he worked at many jobs, but didn't lose his rhythmic ideas.
He landed a drumming job with Paul Howard's Quality Serenaders and made his first records, singing some of the vocals himself. From there, he joined Les Hite's band, working in motion pictures. Then along came Louis Armstrong, and Hampton joined him on the drums at the Los Angeles Cotton Club.
It was during this engagement that Hampton first earned national acclaim. While recording with Armstrong, Hamp started to play around with the vibraharp in the studio, and Louis had him play it on record: "Memories Of You." It became a top seller, and from that point on, Hampton was on his way to the top, where he has been ever since.
It was during his recent stay in Las Vegas that Hamp dreamed up a new idea—a correspondence course in music for small children.
"Education in music is the finest thing that could happen to a child," said Hamp, as he outlined his program, which he hopes someday will develop into a series of music schools across the nation.
"Big Hamp's" system, which is now being instituted, already has received the approval of many orchestra leaders who are of the same opinion as Hamp regarding music and children.
"A lot of the success of this venture depends upon the parents," said Hamp. "They will receive the training information and then pass it on to the child, so they can enjoy playing with the drums and vibraharp."
The Rogers Drum Company is cooperating with Hampton in making drums and vibraharps for children. Included with each instrument is an instruction sheet displaying scales and chords, using numbers to assist the youngsters in finding the right chord. Both instruments are miniature in size and two octaves in range.
"When the child completes the primary course, the parents can send in for the advanced course," explained Hamp. "It's arranged so that a child of 3 or 4 can learn to play. When they progress through the courses, they will be ready to attend music school."
Hamp's idea is catching fire, and it should help to develop new musicians. Being a man of many ideas, though, he is never satisfied to sit back and let his music speak alone for him. He is always seeking new fields to conquer.
Most of Hamp's popularity is due to himself. Whether he's working on a chorus, on a drum, hammering away on the piano with his famed two-finger technique or improvising an intricate riff on the vibes, he always exudes a kind of spontaneity and exhilaration that's highly contagious.
He plays the drums and vibes on nearly every number and still leads the band, not with a baton, but with his body, throwing himself about like a dervish. He juggles drum sticks and hurls them into the audience; he tap-dances and turns somersaults. The only time he is still while on stage is when he's crouched over the vibes, and then the stillness is relative. He bounces up and down in rhythm, singing to himself in a sort of half-chant, half-grunt. The audience always picks up his tempo and joins with him.
When Hampton and Skelton got together at the Riviera, where they were both entertaining, ideas began to fly, and before anyone realized, these two were mulling over an hour-long jazz show for TV.
Hampton and his band will provide the jazz music to fit into a narration by Skelton showing the origination of jazz and its growth.
After several hours of batting suggestions back and forth, both agreed that this was really something. The information, music and jokes are recorded on tape. It was the birth of a TV spectacular, which may appear shortly on a national network.
"How can it fail?" asked Red. "Lionel's music is the greatest and with these ideas incorporated into it—it will be a success."
But Hampton has a very serious side to his nature. He is a great student of the Bible.
"I trust in God—and always turn to Him for help and guidance," Hamp said. "I owe all my successes to His guidance. He's one I can never forget."