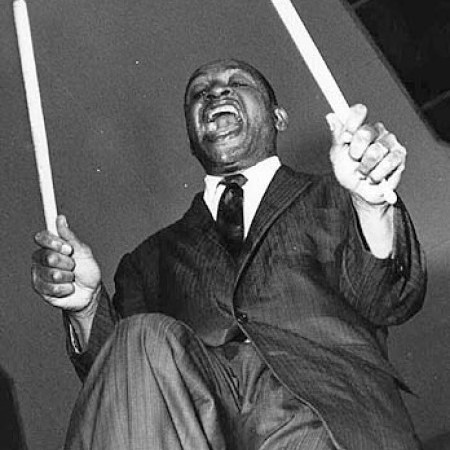 One of Hamp's greatest thrills was playing in Israel at the personal request of President Yitzhak Ben-Zvi, who asked that Hamp and his band come as a morale-builder.
"I went there and the welcome they gave us was beyond our wildest dreams," said Hamp as he recalled his 48 concerts played in four weeks at concert halls, Kibbutzim and army camps. "In Beersheba, we played to an enthusiastic audience of 5,500 border guards near the Gaza Strip. They were mere teenagers. Just boys and girls—but they showed their appreciation by beating time to the music on the butts of their tommy guns. I'll never forget that day—and I don't think they will, either."
While in Israel, Chief Rabbi Herzog honored Hampton with the title, "Chief Rabbi of Jazz." Banners across the street read: "America's Ambassador of Good Will" and "America's Heartbeat."
Hamp was received by Herzog in his home. "I was armed with a newly gained knowledge of Hebrew and I hoped to have a Bible discussion, but instead, the rabbi insisted on a lively discourse on boogie-woogie," he remembered.
After showing Hamp a treasured ancient scroll of the Torah and a scale model of an ultra-modern temple, Herzog presented Hampton with a Bible inscribed, "To a true friend of Israel, Mr. Lionel Hampton. May God watch you and save you from any ill from now on and forever."
As Hamp left, the Rabbi whispered in his ear a lengthy Hebrew prayer that the Lord would protect him during his travels. America's "Jambassador" then astounded his Israeli friends by translating the prayer word for word in perfect English.
"Jazz speaks an international language," said Hamp. "No matter where we went, our music was accepted."
While traveling in Europe, Hamp and his band also visited Italy, Spain, Germany, Luxembourg, France, Holland, Belgium, Norway, Sweden, Denmark, Austria and Switzerland.
"I was privileged to be the first American jazz bandleader to perform in Spain and Ambassador John David Lodge honored me with his presence at our jazz session in Barcelona, where we played before 19,000 people."
Later, Hamp told Lodge, "Man, we didn't bring any bulls there—but we had plenty of horns!"
Hamp's concerts in all the countries were memorable. He recalls that while playing in Paris at the Olympia Theater fans danced in the aisles. In Berlin, the band drew 22,000 patrons in two shows at the famed Sportpalast—the same hall where Hitler condemned American jazz as "decadent."
In Brussels, 5,000 had to be turned away from the theater, so Hamp rounded up his band ahead of time and marched them out onto the sidewalk and did some numbers for the folks who couldn't get tickets, so they wouldn't be disappointed.
"It was this same way in every country that we visited," explained Hamp. "The thirst for jazz seemed unquenchable."
Hamp thought over his past. "I've been a very fortunate man," he said softly. "And I owe it all to God. Without Him, I couldn't amount to anything."
During his career, Hamp has composed more than 100 tunes, all of which he presents with never-ending enthusiasm. Every follower of jazz knows his book, and when he appeared at the Riviera, fans constantly called out requests for his popular tunes.
When asked about his plans for the future, Hampton grinned and replied, "Man, as long as people want to hear jazz, I'll give it to them." DB