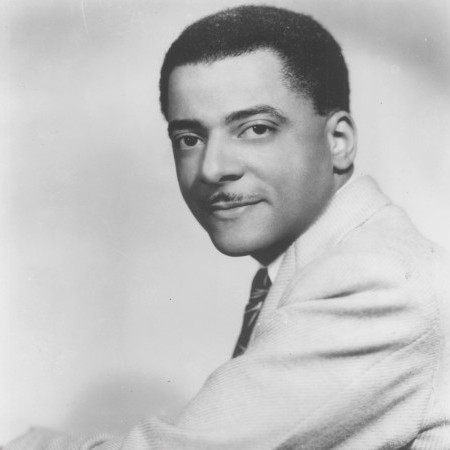 Wilson's first nonrecording job with Goodman was at the Congress Hotel in Chicago on Easter Sunday, 1936. Hammond drummed up the idea of Sunday afternoon jazz concerts at the hotel with outside musicians as guest stars, and Wilson was one of the first to be featured. He was such a hit that he was asked to join the band as a steady member.
As the first Negro featured with a nationally known white band, did Wilson have much trouble with racial prejudice while working with Goodman?
"Only in regards to hotels ... sleeping accommodations and hotel restaurants," Wilson remembered.
Only in the South?
"Oh, no, North and South. And there was another thing, too. The first movie we did—I think it was called The Big Broadcast of 1937, something like that—the movie people wanted me to play the soundtrack but wouldn't allow me to be photographed. I didn't agree to that, and I wasn't in the movie."
Speaking generally of the swing era, Wilson said, "It was a very exciting period. The Goodman band was the first jazz band to become a nationally popular thing, and it took us all by surprise. No one expected it. And in those years, the audience would even applaud a good figuration. You never see that now!
"Of course, a big part of the audience was sensitive to showmanship— the drum solos, for example—but a good many people in the audience were obviously musically sensitive. In contrast, the audience today is so jaded. They have to be entertained. It's a problem that young musicians must face.
"Music is something like baseball, movies, or any other entertainment medium in that respect. It isn't easy, and it sometimes calls for values that are not musical. Today, music is not the thing, as it was then. I imagine it's discouraging for a good young musician today when he sees how successful a mediocre musician can be."
Teddy said he believes that a major reason why the Goodman band was able to become the first nationally popular jazz band is because Benny kept music at danceable tempos. He elaborated: "Goodman would sometimes stand in front of the band, tapping his foot for as long as a minute, almost as if feeling the pulse of the dancers, to assure the proper time."
Wilson added that the band had "a good sound, one of the great clarinet players, good intonation in the reed section, first-rate trumpet work and other musical values, and it was playing within the dance tradition."
Wilson said jazz has lost the mass audience, partly because it came to ignore dancers. "And so rock 'n' roll, as bad as it is, is filing the vacuum. Ellington, of course, has always had high musical standards, as well as a good dance band, too. He's done an amazing job over the years to keep his band in touch with the public while doing other things in music, too."
Wilson left Goodman in 1939 to form his own big band. The band lasted about a year and was not a commercial success, although it won high praise from musicians and critics. Of this band, Wilson said: "The band simply didn't have much mass appeal. We didn't have enough show pieces. We played good dance music, but we needed 10 or 20 good stomp head arrangements to add the excitement that was missing. The mistake I made was in concentrating too much on written arrangements."
From 1940 to 1944, Wilson fronted an all-start sextet at the two Cafes Society, Uptown and Downtown, and in 1945 he rejoined Goodman, working with Red Norvo and Slam Stewart in the Goodman sextet.
During the next decade, Teddy was in studio work most of the time, as a staff musician at New York's WNEW and later at CBS. He also taught annual summer classes on jazz piano improvisation at Juilliard. Since the 1956 Goodman movie, Teddy has made more club appearances, notably at the New York City Embers. Currently, he is using Bert Dahlander, the Swedish drummer, and bass man Arvell Shaw in his trio.
Although he has not taught for some time, Wilson remembers and is typically quick to praise his former students, particularly John Ferrincieli, who "played stride piano against a modern type of right hand," and William Nalle, now in studio work. "I had some other talented students, too, and I am talking about real piano players," he said.
As might be expected from a two-handed pianist who understands that a piano is not a drum, a pianist whose work has been distinguished by superb finger control, a keen sense of dynamics, master legato playing, originality, love of melody, a compelling and resilient beat and a complete absence of gimmicks, Wilson does not think much of most contemporary jazz pianists.
"With few exceptions, what they play is a caricature of the piano," Teddy said. "A caricature simply because of the way the piano is made. And pianists today all sound so much alike."
But Wilson, the schooled pianist, does not include Erroll Garner, who cannot read music, among the caricaturists. Teddy explained: "Garner brought a great deal of originality to jazz piano, working with his time lag. His phrases come through with such conviction because they are his own. On the other hand, when you imitate another musician's way of playing and are too derivative, your phrases are not too clear, are just a shade vague, and they lack real conviction."
Wilson, also a critic of modern rhythm sections, said, "Drummers today play a continuous solo, from 9 till 4. And I always thought a saxophonist like Parker would sound much better with a conventional rhythm section than with a hipster rhythm section. To my mind, if the background gets too complex, it kills the solo. I guess Dizzy and others like that kind of drummer and that kind of rhythm section, but I don't. The Parker-like soloists would sound much better if they had simpler harmonic backgrounds; then their own harmonic thinking would come over far better."
Wilson also said he feels that the development of records, ironically, has helped what he terms the "conformity" in jazz today.
"When I came up, there was a good deal of local influence," he said. "We would travel 30 miles or so to hear another musician who had his own way of playing. Musicians developed different approaches to music in different cities. But today the same jazz records are available and popular all over. They influence young musicians in New York, Atlanta, Paris or Tuskegee at the same time. All this tends for conformity."
Perhaps Wilson's point of view concerning jazz today is best summed up with this offhand remark: "You have creative people and you have imitative people, and in a period of conformity, as today, there are more imitative people."
What does he think of the music business today?
"I do feel that music has got to come back," he said. DB