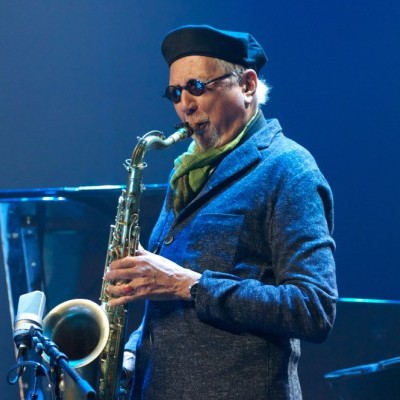 A good rain in Southern California can reveal so much. When the clouds let loose and a solid breeze filters the air, Santa Cruz Island appears with stunning clarity, revealing a towering, fertile land mass, full of history and mystery. The United States census lists the population of that island as 2. Twenty miles directly across the ocean, on a considerably larger landmass (Santa Barbara, California), tenor saxophonist/flutist Charles Lloyd has managed to build up his own monumental and mysterious world with a similarly manageable population: himself and his longtime partner, Dorothy Darr.
Lloyd left Memphis for Southern California in the mid-1950s. Catching the waning days of the Central Avenue jazz scene, playing with Los Angeles legends like bandleader Gerald Wilson and multi-reedist Buddy Collette. In the early 1960s, he added swagger to Chico Hamilton's band before joining Cannonball Adderley's group. By the mid 1960s, Lloyd had set off on his own, leading a quartet that included pianist Keith Jarrett, bassist Cecil McBee and drummer Jack DeJohnette. Together, they achieved the unthinkable, producing a chart-topping jazz album, Forest Flower, whose bright-yellow sleeve wedged its way into collections of jazzheads and rockers equally. They found themselves regularly sharing bills at the Fillmore with the Grateful Dead and Jimi Hendrix, but the expectations and lifestyle that followed were not to Lloyd's liking. Within a few years, he had traded it for the solace of Northern California.
"When you are young, you have the naïve dreams, I suppose," said Lloyd, 75, of that time. "I still have them, but I had hit a wall and I decided that I needed to go away. If I wanted to change the world, I had to change myself."
His self-imposed exile lasted until pianist Michel Petrucciani brought him out of retirement in the early 1980s. "The elders have always helped me, and so it was my honor to take him around the world for a few years. By that time, I was bit by the cobra and I had to continue to serve."
Lloyd has continued to serve ever since, releasing 16 albums in the last 24 years with the ECM label. Most of those releases have adhered to the instrumentation of that first successful band, and his most recent incarnation includes bassist Reuben Rogers, drummer Eric Harland and pianist Jason Moran. On Feb. 26, Lloyd and Moran released a duo album on ECM titled Hagar's Song. This April, ECM will reissue Lloyd's first five albums—Fish Out Of Water, Notes From Big Sur, The Call, All My Relations and Canto—as a box set in the company's Old and New Masters series.
Lloyd's sound has always been imbued with a sense of melancholy and longing, but Hagar's Song, stripped to the essentials and riddled with 20th century jazz and pop standards, has a lingering sadness. The pair does strut occasionally, but the centerpiece, "Hagar Suite," is a devastating homage to his great-great-grandmother that churns with a barely containable broken heart.
Much of Lloyd's storied career is covered thoroughly in the documentary Arrows Into Infinity, co-directed by Darr. She has been Lloyd's partner—spiritually, emotionally and professionally—throughout most of his resurgence. The film has been a five-year labor of love for her that dug deep into the vaults, unearthing astounding footage from Lloyd's earliest playing days, as well as some charming newer interviews with the likes of a pool-playing Ornette Coleman and a reverential Robbie Robertson.
"I don't talk much," Lloyd said in the middle of what proved to be a three-hour interview. That seems like a voluntary decision for Lloyd, whose ideas are measured but limitless. While over-looking the stormy Pacific Ocean, he offered a range of answers studded with riddles and metaphors.
DownBeat: Aside from your duo recording with drummer Billy Higgins, where you played a little piano, is Hagar's Song your first duo record with a pianist?
Charles Lloyd: Yeah, I think so. It's a beautiful experience when [Jason Moran and I] go exploring together. We had played some duo concerts before up in Maine, Romania, France. Jason and I are both from the South and a lot of this music comes out of the South. We have this instant simpatico thing, and from the first day he joined, it has been an evolution and growth. To go on this highly personal journey of playing this duo record, we went with faith and a wing and a prayer. We are sound-seekers, and I become found in the music. I'm drunk with it all my life. Each time I play it is always my dedication to tell the truth. Truth and love, may that guide us—and I ask the Creator to give it to us, because it's not my music that comes through. I'm like a reporter. The beautiful thing is the music informs. It always does such wonders for me and also for the audience. It's a sharing. Jason knew something of what I was going for. I didn't tell him what we were going to play or do for the most part. I like the freshness of what happens when we go on this journey.
How did you come to work with Moran?
He expressed interest to my drummer, Eric Harland. He heard us play at Carnegie Hall in 2005. He and Eric grew up together in Houston. Eric said, "He understands." Geri Allen was playing with me at the time, but she had a conflict of schedule and could only do half a big European tour. I don't like to go out in the middle of this journey to the mountaintop and split it like that, so we invited Jason along.
It was trust and a leap of faith. Jason is a very beautiful soul. My music dances on a lot of shores, and he has this ability to have this archaeology and wisdom of the ancients. He's a composer and a seeker who is always growing and working on himself.
The list of pianists you have employed is impressive—Keith Jarrett, Michel Petrucciani, Bobo Stenson, Brad Mehldau, Geri Allen. Is there something that connects all of them?
They bring what they bring, and I don't bother them. They come ready to serve. We are in service and the right attitude and focus is what allows it to happen. I grew up around one of the greatest pianists ever, Phineas Newborn, when I was a young child in Memphis. He became my mentor, and I think he planted a seed in me, so many great pianists have expressed an interest to play with me. These pianists are all different but the sound quest is in all of them. They are ecstatics and they like the high zone. They've built the stairways to get up there. You can't just jump on the roof and jump down. You'll break your legs.
What is the effect of recording so close to your home in Santa Barbara?
Well, it's homemade. Billy Higgins taught me that. We always recorded in Europe because my record label, ECM, is in Europe, but Higgins' health was failing. He needed to be near UCLA for the medical situation. He liked to be near his mosque. Higgins wanted to record at home. He thought it would be fantastic if he could record on his own drums. The first record we did that with was [2000's] The Water Is Wide. ECM had the respect and trust in us to go and produce this record. We wanted to get the purest sound we could. The musicians love to come up here and visit us. We have a special low-key environment. We recorded [2010's] Mirror up here, too, and it was well-received. For this duo recording, we chose the same path. I like to be at home and sleep in my own bed if I can and be wakeful. We must be prepared wherever we are, but it's a nice luxury to be able to do it at home. It allowed the recording to unfold in an organic way.
How did you end up calling Santa Barbara home?
We lived in Big Sur during most of my retreat days. I left New York in the '70s somewhere and came to Malibu, briefly. I took a house at the beach and cleaned up my act. I had habits that weren't conducive to my best self. I wanted to go deeper inside, so I moved up the coast to Big Sur. My nearest neighbor was a mile-and-a-half on either side of me. I was able to do the interior work that I needed to do. As a young man, I had this dream of changing the world with the beauty of music, and then I realized at a certain point that I hadn't accomplished that because the world is a vast place. If I wanted to change the world, I had to change myself. As a young man, I put my six-shooters away and I went into the woods and I charged my batteries for a decade or more. We were happy in Big Sur, but I got ill and they had to cut me open in 1986, so I came down to Santa Barbara.
After putting your six-shooters away, did you come back using the same weapons?
This general comes to the monastery and he's going around chopping off heads of these monks. He says, "Do you know who I am?" to this monk, and the monk says, "Well, do you know who I am?" The general says, "I'm a guy who can chop off your head with one fell swoop," and the monk says, "Well, I'm a guy who can sit here and not blink." I had to be a tender warrior. It's an old saying that a general can conquer a thousand armies a thousand times but one man can conquer himself once. Who's the greater? So, I went to do the hard work of facing the mirror of my inadequacies, to be able to come back better able to serve. I had to do some healing because that's what this music is. It's a healing art. It lifts the spirit.
What does this environment do for you? How much does it inform what you do?
It's simple living and high thinking, a Thoreau way of living. I thrive in nature, and then when it's time to go out in the world, it's fuel to give me the strength to go on. I'm blessed that the Creator has continued to endow me with the music. All of my musicians have understood that we have stood on the shoulders of those who have passed, yet we have tentacles into the sky because that's what they want us to do. The song is ongoing, and in each of our lifetimes, we must sing the song. It's a song of freedom and wonder, truth and love.