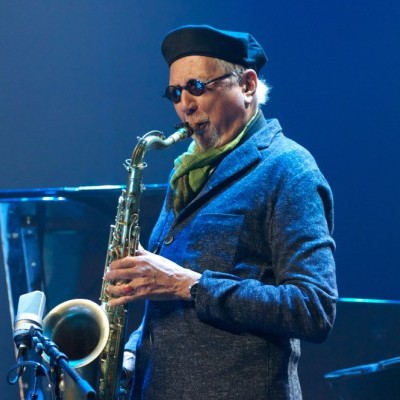 Your wife has made a full-length documentary about you that is touring film festivals. How does it feel to be the subject of a documentary?
This is my life from the get-go. It's so amazing and such a blessing, all the love and care that she and [filmmaker] Jeffrey Morse put into it. I'm really blessed. After I was gone for all those years, when I came back, the music business man said, "You have to get to the back of the line." I said, "Did I not bring something? I've been away polishing the diamond sutras." And he said, "Music is only 10 percent of this stuff." I immediately knew that wasn't the arena for me. A friend said, "You should record for ECM."
And now, 24 years later, you still record for ECM. What has that relationship been like?
It's been beautiful, because I've been able to unfold the music. I've had a home, a place that allows my heart to grow and
 report back to music lovers
 around the world the condition
 of the condition. There's a saying 
in India: Fame and fortune is like 
a hog plum. It's big and it looks
 really juicy. You bite into it and 
it'll break your teeth off, 'cause 
it's all pit and skin. You have to 
have the love inside of you for 
it. You have to have the grace
 to be met. I've found in life if
 you are sincere, you will be met
, because what you are looking 
for is you. We have our wings.
We do what we do, and I think
 it's a state of grace to be able to 
have something to report and to 
be inspired to do it and then to
have a home [in which] to do it.
 All of that needs to come togeth
er. They keep things in print. 
Many of my recordings from the 
past, you can't find them now.
 The first record I made for ECM
 was Fish Out Of Water, and that
 was a beautiful, special record
ing to me. I had been in silence 
for a decade, living in the forest.
 Out of that silence this sound
 came, and it's been great to have 
a company where people are all
 there because they love music. You have to search in life, and 
I encourage young people to
 search for quality, not the least-
common denominator. That's
 been around a long time, and 
they'll smoke your eyelids.
Your first five records for ECM, from 1989 to 1996, are being reissued as a box set. Did you revisit the records before their re-release?
No. Sometimes I'll hear them in my life experience, in my travel. It always touches me that the work has been and continues to be around. My thing is about always going forward. Occasionally, I hear Fish Out Of Water or The Call. They still live and they're still fresh. That's the reward, that the music is still out there and people can still get to it. I'm proud of that.
There are quite a few standards and a few rock songs on Hagar's Song. How did you come to choose them?
There are these beautiful standards, some I've carried with me since childhood. I'm very moved by great composers like Billy Strayhorn and Duke Ellington. There are so many greats in our field, but I'm particularly drawn to them. What I love about Strayhorn and Ellington is the rich harmonic territory and deep melancholia, things that touch me deeply in a place where my heart is. Those two went naturally together. Jason's wife [Alicia Hall Moran] had just been on Broadway in Porgy And Bess. I made a nod to her. I recorded "Bess, You Is My Woman Now." There was a song when I was kid sung by Chris Connor called "All About Ronnie." I recorded that because that was a childhood anthem to me. It kind of spoke to me in a way that Billie Holiday speaks to me. I sang her song "You've Changed."
My friend Levon Helm had just ascended a day or so before we went into the studio. I was affected by that. I remember him warmly and I wanted to sing "I Shall Be Released" to him and to all of us.
The five-part "Hagar Suite" is the focal point of the album. Can you explain some of the story behind it?
That is a set of pieces that are difficult to talk about. It's a suite for my great-great-grandmother Hagar, who lived in the early 1800s. The thing that saddens me so much is that I know a lot about my grandmother and my great-grandmother because my great-grandmother was Sally Sunflower Whitecloud. Hagar was my great-great-grandmother, and she was taken from her family in lower Mississippi at the age of 10 up to Bolivar, Tennessee, and sold into slavery. I want us all to think about what it is to take a 10-year-old child. Slavery is horrendous to begin with and it still goes on around the world. I think that we are all God's children and we need to rise above this kind of mentality of plunder and thousands of years of throwing rocks at each other. Maybe I'm not meant for these times, but that must not be so, because I'm still here. I wanted to sing a song to her. I wanted to deal with her being alone and being sold on the auction block, a 10-year-old kid alone, away from her parents. It's a very tragic story. It's my way of addressing the ancestors.
How old were you when you learned the story?
I only learned that story within the last year or two—from Dorothy, who had made a film on my grandfather who had lived in Mississippi. She went to the courthouse and checked all the records. She uncovered this and it profoundly affected me as an adult. So, I had to address it. It was in my soul and it's ongoing. This is a process. I've never gotten good enough to quit. I'm still striving to make that sound which would allow me to go into the forest and put on a loin cloth and put it down. I haven't gotten to that place. In my mind's ear I hear the sound and it's always calling me.
Are there any musicians who were good enough to quit?
That's not for me to say. I've heard many geniuses and greats who seemed to have it all. I remember when I was in New York in my twenties, hearing Johnny Hodges with Duke Ellington and Harry Carney. Phineas Newborn turned me on to Charlie Parker at age 9. All of my life I have heard these greats, but it's for them to say. It's not about quitting. It's about going forward.
Sleepwalking isn't something I'm interested in. We are all spirits on a human journey. We're passing through here. This is not our home. You can't build a house on a bridge. Divinity is our birthright, but we get hypnotized by the world and think there is something out there of the glass bead game that's intriguing. Mostly it's a lot of detours. Most of what they show us about civilization is not the direct path. There is always something about rising above. You fall many times in life, but the important thing is to get up and keep moving forward. DB